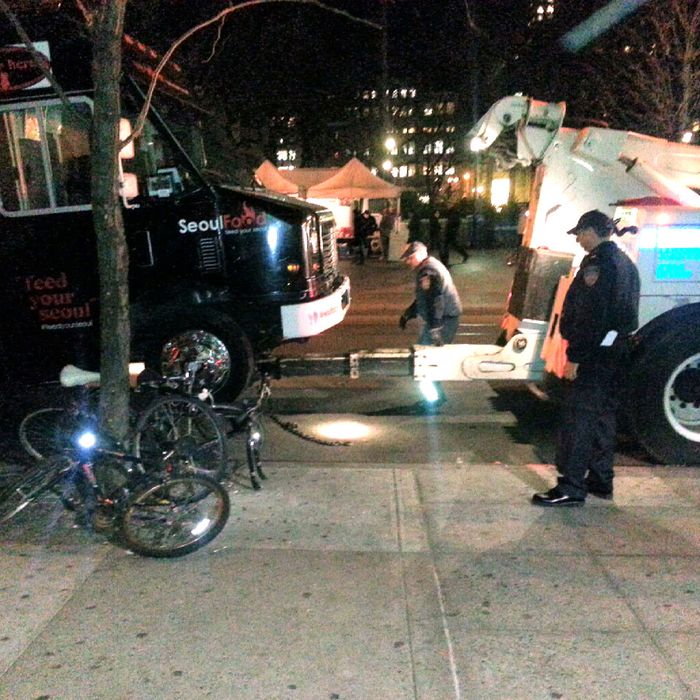 Darin Gibson says Monday night's tow cost Seoul Food more than $1,000.
Photo: Courtesy of Seoul Food NYC
Early Monday evening, just outside Union Square, police officers approached and issued $60 summonses to mobile food vendors Phil's Steaks and Seoul Food NYC because they were parked at metered spots, but instead of asking them to move, representatives from the trucks say their trucks were summarily towed. Blogger New York Street Food first reported on the incident, which suggests a new wave of food-truck crackdowns is in place after a sort of grace period that began after the vendors dispensed hundreds of thousands of free meals to victims of Hurricane Sandy. This morning, we spoke with the vendors about their latest round of legal troubles.
"It was our first day on the job this year," says Phil's Steaks co-owner Kevin McConnell, "and the Traffic Department had just put up a bunch of 'No Standing' signs where we normally park off Union Square, so we moved up to a space between 15th and 16th Streets." McConnell says he helped the truck's workers set up its regular cheesesteak mise en place for the night before heading home early on Monday evening. Barely one hour into the shift, however, McConnell was called back.
"My guys told it was a summons," he says, adding that it took him ten minutes to get back to Union Square. By that time, he police, who are normally friendly with the truck's crew, said that a tow truck had already been dispatched. "We're shutting you down with a summons," he was told, and then the Traffic Department's tow arrived. When he asked why he wouldn't first get the chance to defend himself in court, McConnell says one of the officers told him it wasn't their choice. "This is coming from Chief Tuller," he said, referring to Chief of Transportation Bureau James Tuller.

Seoul Food NYC truck was parked next to Phil's and received the same treatment. "This is coming from the big chief," officers also told Darin Gibson, the truck's operations director. Gibson says in addition to the fines, he was unable to pay employees for the night and the truck lost revenue because it did not sell any of its sandwiches, bibimbap, or tacos filled with short ribs or rib-eye bulgogi.
Last year, both trucks put in hundreds of hours serving meals to communities in lower Brooklyn, Queens, and Staten Island after Hurricane Sandy. "We were there nonstop," says Gibson. "There are pictures of us with the mayor."
"It was a solid three weeks we were out there," says McConnell, adding that Phil's Steaks served 10,000 free sandwiches in conjunction with the mayor's office and corporate sponsors. After legions of food trucks responded with alacrity to feed those affected by the storm, many thought any lingering negative public perception of food vendors might change.
For now, however, they're back to fines, dealing with authorities, and trying to see the bright side. In addition to lost sales and the loss of product, it cost each vendor $370 to get their trucks out of impound. "If the tow pound guys wanted free steaks," Phil's Steaks tweeted on Monday, "all they had to do was ask."
NYC Food Trucks Still Running Into Legal Problems [NYSF]
Earlier: Turnarounds: How Food Trucks Went From 'Scourge' to 'Savior'