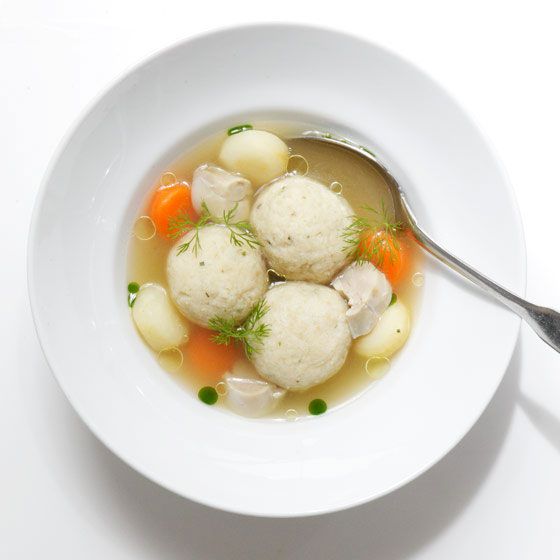 Matzo Ball Soup From DBGB.
Photo: Hannah Whitaker/New York Magazine
It's true: New York is in a state of flu emergency. The city's supply of flu shots is dwindling. Kids are tapping elbows instead of high-fiving. We're pretty sure this is how Contagion started. If you're in total isolation, hiding under your covers, staring at the bleak Seamless app on your phone, we're here to rescue you. There are foods and drinks all around the city that will make you feel better, and yes, you can get many of them delivered. And if you're not sick, this is the time to jack up your immune system. We've surveyed the city's vitamin-packed, comforting, soothing, vaguely healthy food (and booze!) options and put together plans based on your level of misery, ensuring that even the sickest of folks can find nourishment with ease.
You're Either Bed-Ridden or Quarantined and You Need Delivery:
Pulled Duroc Pork Sandwich With Spiced Honey From Num Pang: Pork is a good source of zinc, which helps your bod fight off infections, and honey soothes your throat. But it's the Parisi baguette that can cure all.
Market Plate From Westville : This combo of four veggie sides is perfect delivery fare because it reheats well in the microwave. To maximize antioxidants and all that jazz, go for the honey Dijon Brussels sprouts, garlic pesto mash, roasted sweet potatoes, and green beans with almonds.
Tortilla Soup From La Esquina: The ancho chile gives this soup a kick, and spice thins mucus (gross, but true!). The avocado and carbs from the tortilla strips will give your sad, weak body a needed protein boost.
Chicken With Hot Red Pepper From Hunan Kitchen of Grand Sichuan: This is considered one of the spiciest dishes in New York. It'll make you cry (happy) tears as phlegm leaves your system.
Garlicky Pork Chops From La Caridad 78: Yes, there's the pork, but it turns out that garlic is also helpful because of something called allicin, which is a strong antibacterial and antiviral. The restaurant made the cut as one of New York's top delivery spots.
You're On a Liquid Diet:
Usain Bolt Immune Booster Juice From Melvin's Juice Box at Miss Lily's: If it's named after the fastest man alive, it's good enough to get your JV body up to speed. This concoction's packed with apples, beets, ginger, garlic, carrots, Vitamin C, spirulina, echinacea (what?), golden seal (the hell?), B-complex, and banana. The banana flavor overpowers all the scary health stuff, and it actually tastes awesome. Plus: Melvin's delivers.
Strawberry Blond From the Butcher's Daughter: This new café from cocktail pro Heather Tierney makes health food taste all right. This juice spritzer has blood orange, basil, and strawberry, which provides Vitamin C.
Elderflower Tea From Frankies 457: Elder berries are an old folk remedy to fight the flu; they have antioxidant, antihistamine, and anti-inflammatory effects, which are probably maximized when not inside a cocktail.
Soy to the World From Liquiteria: Shit's not going well if you can't stomach food. This "liquid meal" (meh) consists of banana, blueberries, melon, vanilla soy milk, lecithin, and organic raw honey. Bananas keep your colon healthy, and honey, which is an antiviral, promotes digestive health. In sum: You'll be regular.
Winter Flu Brew From Podunk: Tea maven Elspeth puts homemade strawberry mint cayenne jam, the juice of one lemon, hibiscus, orange peels, eucalyptus, honey, and your choice of black, green, or herbal tea into this magical pot.
You Can Muster the Energy to Pick Up Food to Go:
Jim's Matzo Ball Soup From DBGB: This Bubby-approved soup's double-stock broth will thin out your mucus while the carbs give you energy. Plus: Chef Jim Leiken adds schmaltz to the balls.
Sweet Potato Casserole From Mighty Quinn's BBQ: This super-veg side dish helps get rid of toxins, and it comes topped with maple syrup and pecans. But don't forget a slab of pulled pork while you're here.
Broccoli Béchamal With Gruyère From Arancini Bros.: The broccoli in the rice ball is packed with immune-fighting Vitamin C, and fried food always makes you feel better, right?
Carrot and Onion Tartine on Sunflower Rye From Bien Cuit: Sunflower seeds are stocked with vitamin E, which gives you an excuse to eat this sandwich and get a loaf of extra bread on the side (yeah, it's that good). The veggies on this open-faced sandwich can't hurt, either.
Pibil Tacos From Cochinita: Winner of the most flu-fighting ingredients packed into one dish: pork shoulder braised in oranges, spices, banana leaves, with hot salsa. Might as well get the meat sweats if you already have a temperature.
You Can Act Like a Functioning Human and Eat at a Restaurant:
Roasted Whole Hen of the Woods Mushroom From the Marrow: 'Shrooms fight infection and support white blood cells. Plus: Harold Dieterle's dish comes with kale, and this wouldn't be a roundup of health food without the omnipresent Queen Green.
Watercress Salad With Roasted Carrots and Cumin Yogurt From L'Apicio: Yogurt is a smart thing to eat because it keeps disease-causing germs out of your digestive track. This salad's far tastier than out-of-the-carton Fage (but feel free to go to 16 Handles and cough without covering; the fro-yo chain is invading the city).
Salmon From Cafe Tallulah: This new Upper West Side restaurant and cocktail lounge aims for an "Elaine's-style" vibe. If that's telling, you'll feel better after eating vitamin-D-packed fish from a former sous-chef at Blue Hill at Stone Barns.
Iowa Farms Pork From Louro: If you're finally taking off your sweatpants, you should have a little fun and try a new restaurant. This West Village spot from chef David Santos is getting good hype, and probably because it serves pork loin and belly with barbecue baked beans.
Oysters From the Leadbelly: One medium oyster provides all the zinc you need for a day, and you'll eat at least ten Kumamotos here. There's also comfort food in the form of truffle fries, Scotch eggs, and artichoke macaroni and cheese.
You Insist on Acting Like a Kid Home From School and Will Eat Only Sweets:
Warm Sweet Potato Cake from Kyotofu: This Hell's Kitchen Japanese spot specializes in desserts, and they taste damn good despite the vaguely healthy ingredient list. This one's got sweet-potato caramel, which must be flu-fighting on some level.
Banana Split From the Birdbath Bakery Pop-Up at Books of Wonder: Sometimes, all you need is an ice-cream sundae. This organic dessert is topped with pain-fighting cherries, cocoa nibs, and dark chocolate sauce. And, yes, vanilla ice cream — which is definitely a treat for your sore throat.
Green Tea Mille Crepes From Lady M Cake Boutique: Twenty or so layers of delicate crepe, subtle whipped cream, and enough immune-boosting matcha to turn the whole thing green.
Chocolate Loaf From Blue Duck Bakery Cafe: This rich bread's made out on Long Island, but it's sold at Union Market. With 72 percent cacao chocolate, it's packed with antioxidants.
Almond Brioche Toast From Amy's Bread: Take it home and pan-fry it for a quick and easy French toast. You could even heat this up in the microwave and it'd still taste great. Almonds give you vitamin E, too.
You're Going to Drink the Pain Away:
Start Me Up From the NoMad: The mix of bourbon, rum, strega, honey, ginger, lemon, and orange bitters will go down easy and soothe your throat.
Warm Ginger Cocktail From EN Japanese Brasserie: This cocktail's normally served cold, but all you have to do is ask for it hot and the bartender will happily comply. Ginger helps digestion and clears congestion, so it'll put you in good shape for the evening to come.
Rum & Raisin From Saxon + Parole: We already told you about how good Greek yogurt is for your malnourished, sad state of a body. It's what makes this cocktail creamy.
Fraise Sauvage From Employees Only: With wild strawberries, lemon juice, Plymouth gin, and Prosecco, this fruity drink is both refreshing and vitamin-packed. It's not a girly cocktail when a master mixologist makes it.
Sour Cherry Old Fashioned from ABC Kitchen: Cherries, which are also a good hangover-preventing food, fight pain. And Maker's Mark never did any harm.