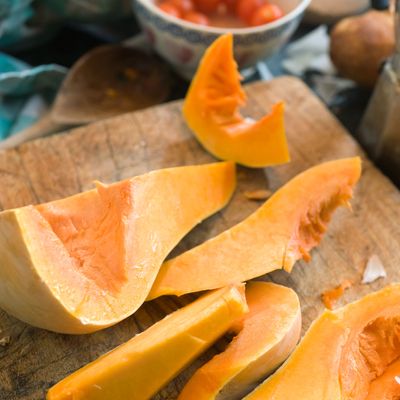 Now imagine this on top of carbs.
Photo: Laurence Mouton/Corbis
If you're not sick with the flu, imminent illness is definitely on your mind. It's important to load your body with nutrients as people are coughing, wheezing, sniffling, and sneezing all around you. Yuck. The goods news is that it's easy to be proactive; there are tons of healthy foods (and alcoholic drinks!) around town that can help you ward off the flu — exotic cuisines included. This week, that means South Indian food at Tiffin Walla and ox-bone soup at Gahm Mi Oak.
Monday, January 21: Wait Patiently at Rucola
When you bite into buttery branzino crudo — and then follow it with a butternut squash pasta dish that tastes like an upscale, healthy version of your best memory of macaroni and cheese, you'll understand why there's always a two-hour wait at Rucola. Kill time by snacking on a salad at the bar: The broccoli rabe and romaine Caesar are good introductions to the meal.
Tuesday, January 22: Eat South Indian Food at Tiffin Walla
Forget mango lassis; chaas, the salty yogurt drink here that's dotted with specks of ginger, is far more interesting (and better for your body). Don't fill up on beverages, though. This South Indian restaurant has scores of vegetarian delights, including spinach and chickpea chana saag; an eggplant, yam, and snowpea concoction called undhiyu; and a potato-filled dosa made of lentil flour that's bigger than your head.
Wednesday, January 23: Snack While You're Out Drinking
It's hump day, so of course you're out drinking. At Rye House, get the boiled peanuts, a kale Caesar salad, and if you're jonesing for something starchy, the fish fry. You'll at least get some protein and heart-healthy fats with your boozefest.
Thursday, January 24: Fight Illness at Gahm Mi Oak
Hung-over from last night? Try your luck at Gahm Mi Oak, where the ox-bone broth is a cure-all meant to ease hangovers, flu symptoms, and achy joints.
Friday, January 25: Drink Tequila If You're Feeling Sick
During the 1918 flu epidemic in Mexico, doctors prescribed a mix of tequila, lime, and salt to reduce oral bacteria and ease a sore throat. The Mondrian Soho and the Hurricane Club are good places to enjoy tequila cocktails, and maybe even take a shot or two (in the name of health!). If that doesn't work, we've got tons more flu-quashing ideas here.