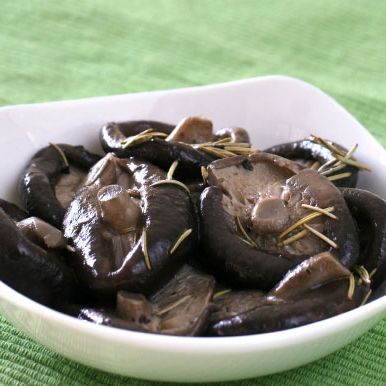 They make your hair look better. Really.
Photo: iStockphoto
When it's this cold outside, it can be hard to make it out of the house for dinner. But if anything's going to warm up your insides, it's food. A dish doesn't have to be super rich to feel comforting, and there are actually a lot of hearty plates in the city that have the added bonus of health benefits. Your immune system is working double-time right now, so it's not a bad idea to veggie-load. This week, find solace at the Marrow, Calliope, and the Cleveland.
Monday, January 28: Eat Magic Mushrooms at the Marrow
You know a chef is devoted to his produce when he creates an entire dish around roasted hen of the woods mushrooms, as Harold Dieterle does at the Marrow. Food scientists would tell you it's worth the steep $26 price, too: Hen of the woods (a.k.a. maitake) 'shrooms are one of the few excellent sources of vitamin D, which is cancer-fighting, mood-boosting, and even hair-beautifying.
Tuesday, January 29: Start Your Day at Calliope
This French restaurant has started slinging breakfast at 8 a.m. Tuesday through Friday; we recommend the house-smoked sable or a dish of marinated mackerel, avocado, and black sesame for an omega-3 bomb that'll get your day off to the healthiest of starts. Adam Platt included this spot in his Where to Eat 2013 list, too.
Wednesday, January 30: Try the Veggies at Fatty 'Cue
While your dinnermates chow down on glistening flesh, try the pumpkin congee, shaved raw vegetables, and green curry PEI mussels at this West Village restaurant. A little easier on your body than deep-fried bacon.
Thursday, January 31: Eat Fish at El Toro Blanco
The menu here is packed with seafood and vegetable choices that will make your heart swoon in the most heart-attack-free way. A few of the options: cactus tacos with quinoa, tomato, and queso fresco; roasted local black sea bass with tomatoes, garlic, and capers; and lobster ceviche with coconut and jicama. A lively spot for an early start to your weekend.
Friday, February 1: Try a New Restaurant; Go to the Cleveland
The Cleveland opened this week, and the menu has warm, comforting dishes that are surprisingly light. The risotto's made with barley, and it comes with shredded duck confit and caramelized onions.