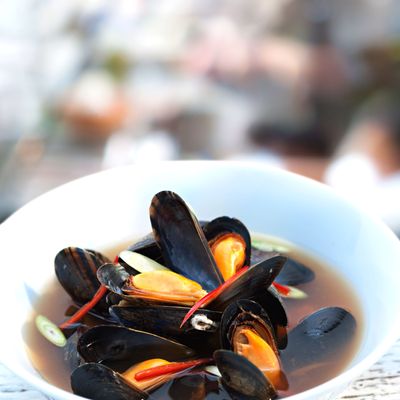 Mussels give you strength.
Photo: Corbis
Health fare isn't limited to salads and vegetables; tacos can be included, too. The olive-oil-poached fish tacos at Crave Fishbar and the cauliflower ones at Salvation Taco taste as good as they'll make you feel. 606 R&D; and Goat Town are also worth checking out for satisfying bites that happen to be packed with vitamins, protein, etc., etc. When it comes to healthy eating, you should never have to sacrifice taste.
Monday, January 14: Enjoy Homey Fare at Goat Town
Try the poppy-seed-laden market salad, which is loaded with vitamins, at the East Village restaurant. Follow it up by ordering the organic chicken with salsify puree.
Tuesday, January 15: Get Some TLC at 606 R&D;
There are plenty of wholesome options at Prospect Heights's 606 R&D;, which is run by City Bakery alums. Yellow beets and hazelnuts are packed with antioxidants and healthy fats, and carrot-parsnip pancakes are filled with fiber and vitamin C. The wild Long Island mussels, which come in a spicy Moroccan broth, are packed with protein — but the real added bonus is that the dish comes with harissa butter.
Wednesday, January 16: Eat Fish for Lunch
Crave Fishbar's new lunch menu is packed with brain food: Opt for a yellowfin tuna sandwich, olive-oil-poached fish tacos, or a shrimp and crab cemita.
Thursday, January 17: Hit K-town
Korea Town isn't exactly a bastion of healthy food, but you can make it so if you know what to order: At Kunjip, go for the spicy, seafood-packed chigae stew. Or try a steamed, marinated monkfish (a.k.a. ah-goo-jjim) at Madangsui, and don't miss the rich, ricottalike hiyakko tofu at Haru Hana.
Friday, January 18: Go Out for Tacos on Friday
It's the end of the week, and Salvation Taco's a good place to kick back and enjoy a few beers. The new spot's take on Mexican fare is alternative, and sometimes healthier. Order the roasted pumpkin with poblanos, a jicama and tomatillo salad, the cauliflower and crema taco, and, of course, some guac (which comes with metabolism-enhancing chilies). You'll feel good enough afterwards to beat your friends at the ping-pong table in the back.
Kate Lowenstein is the senior features editor at Health magazine.