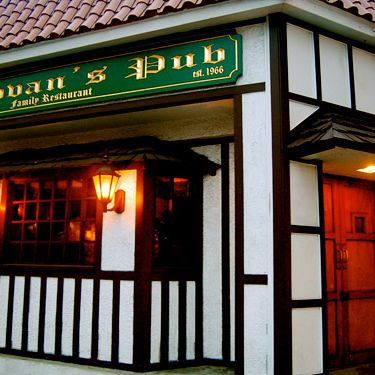 Connor and Jacobson will keep the lights on.
Photo: Patrick Siggins
The corner bar with a killer burger adjacent the No. 7 subway line in Woodside will go on: James Jacobson, who started as a bus boy in high school, has worked at Donovan's Pub for 28 years, has teamed up with Dan Connor, a longtime patron (and Jacobson's brother-in-law), to buy the place from Joe Donovan, who owned it for 46 years but is now in his seventies. Last summer it was reported that Donovan's was on the market for $3.2 million. Because the parcel was zoned residential with a C2-3 overlay, longtime patrons were worried that the new owners would tear it down and replace it with a big bank in the ground floor.

No ATMs are coming to 57-24 Roosevelt Avenue just yet. There were rumors it was close to selling last November, it turns out, but the identity of its new owners was not revealed until last week, when Connor and Jacobson appeared in front of CB2 Queens to discuss their plans for the space, the Sunnyside Post reports. And if the liquor license application they filed earlier this month is any indication, Connor and Jacobson won't be making too many changes at the old bar. Their newly formed business entity is called "Woodside Landmark Restaurant LLC."
Community meets the new owners of Donovan's Pub [Sunnyside Post]
Earlier: Woodside Bar Donovan's May Close Within the Year