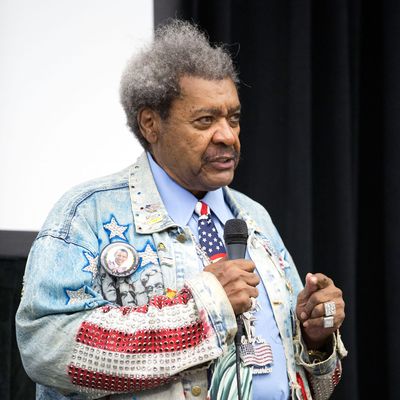 Don King: American, patriot, and Josie suporter.
Photo: Dario Cantatore/Getty
The greatest boxing promoter of all time — who worked with Muhammad Ali, Mike Tyson, George Foreman, Julio César Chávez, Evander Holyfield, and Larry Holmes — has now turned his attention to Top Chef, of all things. Don King says that, at 81, his interests in cooking and food are deepening, and as a regular watcher of Bravo's cooking competition, he feels that chef Josie Smith-Malave was "unjustly" booted at the end of last week's episode, and he's now enlisting the public to get her voted back so she can cook her way through the final rounds. Grub Street spoke with King yesterday afternoon as he waited to board a flight in Cleveland back to his home in Florida.
What does chef Josie mean to you?
Well, America means a lot to me, and chef Josie is a part of Americana, you know, and these are the people who count: They say what they mean, mean with they say. Because of this, sometimes what they say and how they say it is not taken they way people may like it. Shakespeare says it even better: "Trifles light as air are to the jealous confirmations strong as proofs of holy writ." So it may be a little jealously there, something that's outside the realm of cooking, because chef Josie is a fabulous cook.
Her approach to fried chicken on last week's episode was an issue.
Yet they tell me her fried chicken is second-to-none. In the black community, fried chicken is known as the "Gospel Bird," you know what I mean, so I wrote a little ditty for her. I say:
Chef Josie is the people's chef
A master of culinary art
For the people
By the people
And of the people
Her food is Ambrosia
For the masses
And the classes
And her magic lies
In her cooking ties
To the people
Save Chef Josie
Save Chef Josie
It's the American way
That's lovely. And now you're asking people to vote to bring Josie back on the show with the "Save a Chef" thing?
People have to vote! They have to vote on Twitter with #savechefjosie. They have to text it in. I think the number is 27286.
It is.
[Laughs.] You can dig all that computer stuff out, but I've got to tell you like it is. Her chicken is awesome. And eating her fried chicken, they tell me, is a religious experience. It's something awesome.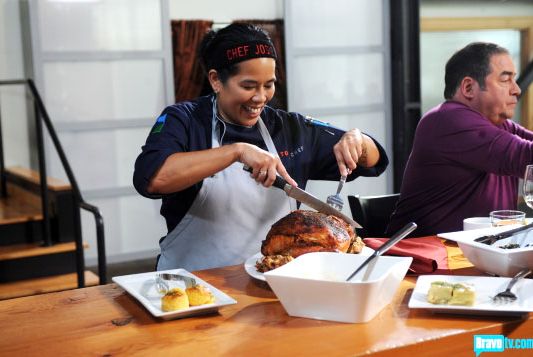 Josie Smith-Malave, just like Mike Tyson.Photo: Bravo

I hear you want to open a fried-chicken restaurant with her.
Lemme tell you something. I believe in America. I believe in American dreams, and I think she's got a good team. Chef Josie's team makes America's dreams. You know what I'm saying? This is what you've have to do. There ain't no I in team. That's T-E-A-M; that's on the B-E-A-M. If you deal with that — whether it's I-I-I, we, the me-me-me, or the we and us — that's when you start to lose sight of the forest for the trees. So we may get chef Josie, I'll make it come together, and in so doing, we'll open up and serve the hearts and the stomachs of all Americans; every creed, race, color, and religion.
Okay. Do you really love Top Chef?
Yes! It's on Bravo. You know what I mean? Top Chef is on Bravo, but you know, let me tell you, it's like sports, it's like fighting, and boxing is like life. You get knocked down, you get back up, you brush yourself off, and you get back in there, and all your problems end there before you. You can't put if off to the next day. You can't send in a substitute. If you run out of gas, there ain't no gas station in sight. Well, cooking is like life. Because you eat, and eating is nourishment for the body, it keeps you functioning, it gives you strength to get through the footrace of life, so you can stand up and be accounted for. Because if you don't stand for something, you don't live for nothing.
You should be a guest judge on the show.
I think that would be great.
So, clearly, you think chef Josie should get back on the show and win Top Chef.
I think she should win Top Chef. I think she should have the opportunity to win Top Chef. Injustice anywhere is a threat to justice everywhere. That's what Dr. Martin Luther King said. She was kicked unjustly off the show, so let us rectify that, not by pointing fingers and blame and accusing this one and that one, but by going to the Twitter and sending out the tweets, and going to the text and sending out the texts. You know, let's see chef Josie. That's all we want, all the viewers everywhere to cast the vote, cast that franchisement, let us have the enjoyment of chef Josie and her Gospel Bird, her fried chicken, her cooking.
You said it's not about pointing fingers. But is there someone on the show that should have been eliminated instead in chef Josie's place?
You have to come after she's back on the show. Instead of condemning anyone else, let her cooking be the judge. If chef Josie can cook the way that everyone says she does, and her fried chicken is a religious experience, then put her back in, give her the opportunity. When the thing is over, then you can ask that question, but oh then, we're going to be sensationalizing at the expense of someone else, and she's the victim of that right now. We're trying to do what is right. I say, "good food, good meat, good God, let's eat."