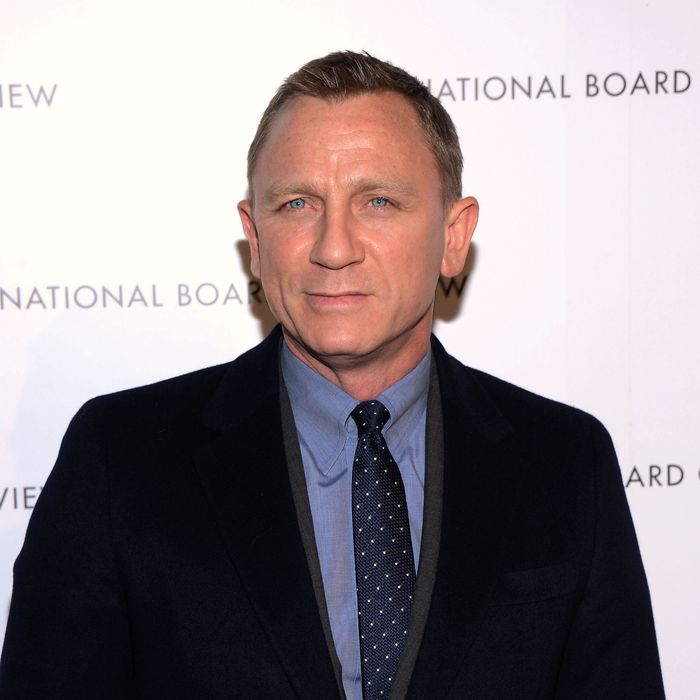 Bond likes his vegetables blended.
Photo: Stephen Lovekin/Getty Images
Not even L.A. awards shows or court appearances could keep celebrities away from New York's restaurants and bars this week. Daniel Craig bought juice at Liquiteria, Django Unchained co-stars Leonardo DiCaprio and Jonah Hill solidified their friendship at Bounce, and Lindsay Lohan fit in an early morning meal at Cafeteria before flying across the country for her court date (no biggie). It's time once again for our weekly roundup of celebrity dining.
ABC Kitchen: Jake Gyllenhaal ordered spaghetti at dinner with his mom and another woman. "Page Six" was told she was not a date. Before sitting down, he stopped by Susan Sarandon's table to say hello. [Page Six/NYP]
The Bar at the Time Hotel: Andy Samberg and Liv Tyler hit up the after-party for the Dirty Projectors' Carnegie Hall performance. [NYDN]
Bounce: Leonardo DiCaprio and new best friend Jonah Hill shared a meal and some drinks at the Upper East Side sports bar. [NYDN]
Brasserie Cognac: Tara Reid attended a Russian New Year's celebration at the restaurant on Saturday night. She and Serafina co-owner Vittorio Assaf were the only ones among the 150-plus attendees blowing noisemakers throughout the sit-down dinner. The other guests, including Real Housewife Ramona Singer and husband Mario, waited until midnight. [Page Six/NYP]
Cafeteria: Lindsay Lohan grabbed a bite at 4:30 a.m. on Tuesday. When another diner recognized her, she covered her face and ran out of the restaurant. Later that day, she showed up for a court appearance in L.A. [Page Six/NYP]
The General: Cuba Gooding Jr. took a break from apartment hunting for a meal at the new restaurant on Bowery. He and some friends did tequila shots and hung out until 11 p.m. [Page Six/NYP]
Greenhouse: T.I. partied with is wife, Tiny, and Young Jeezy at the Soho club. [NYDN]
Liquiteria: Daniel Craig bought six juices from the East Village juice bar. Perhaps he is stocking up in an attempt to ward off the flu. [Page Six/NYP]
No. 8: A joint birthday party for Amy Sacco, IMG model booker Lisa Benson, Vogue's Jill Demling, and Pret-a-Surf co-founder Karen Mulligan drew pretty people Jeremy Renner, Iman, Chrissy Teigen, Chanel Iman, Lily Aldridge, and Christina Ricci. [Page Six/NYP]
PH-D at Dream Downtown: Chace Crawford made out with a blonde woman during a night out with brother-in-law Tony Romo. [Page Six/NYP]
Rao's: Leonardo DiCaprio filmed his last scenes for Wolf of Wall Street at the restaurant in Spanish Harlem. [Page Six/NYP]
Rosewood: Aziz Ansari talked business with an associate at the new hot spot. Meanwhile, Arbitage's Nate Parker took to the dance floor. [NYDN]
SL: Carmelo Anthony ended his fifteen-day fast for "clarity" with a night out with friends. [Page Six/NYP]