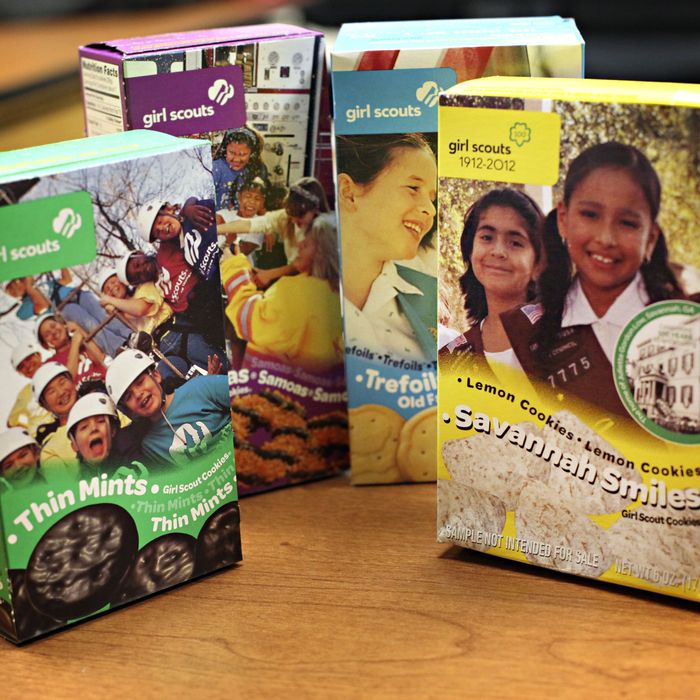 Do-Si-No-You-Didn't.
Photo: Morgan Petroski/Corbis
The first sighting of Girl Scouts is one of the happier moments of the winter season. It's the excitement of Groundhog Day, times ten. The troops are huddled outside a bookstore, in the freezing cold, hawking some of the best packaged cookies ever made — while building a lifetime of skills and confidence! This is our country at its best. But a few awful Americans see this as an ideal time for crime. Two men allegedly stole nearly $400 from a Girl Scouts cash box at a Massachusetts store, and they're being held on charges of unarmed robbery, assault and battery with a dangerous weapon, and shoplifting.
A Pennsylvania criminal targeted a group of Girl Scouts this week, too. He approached the fourth-grade girls, who were selling Samoas and happiness outside of a Pathmark store, and shoved his hand inside the cash box. He made away with $20 (which is the equivalent of five boxes!), and then fled the scene. Let's hope these atrocities don't inspire any Tagalong crimes.
Two men charged with robbery, assault and battery after stealing $400 from Girl Scouts selling cookies [NYDN]
Girl Scout cookie profits pilfered by Pa. man, say cops [CBS]