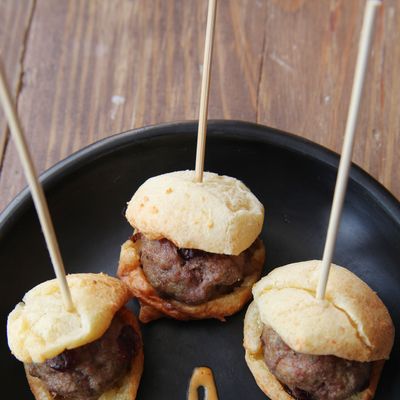 Lamb sliders at Cómodo.
Photo: Hannah Mattix
Before Felipe and Tamy Donnelly opened Cómodo in Soho, they got their start cooking for friends in their apartment on Worth Street. Friends soon turned into friends-of-friends, and eventually total strangers began attending. A community based on a love of food formed, and now Felipe and Tamy are going back to their supper-club roots by organizing pop-up dinner parties in new, exotic locales. Cómodo partners Mac Osborne and Carolina Santos-Neves are hosting the "clandestine yet very familiar gatherings," which will take place in "studios, beaches, fields, and living rooms" of friends old and new. You can keep up with their journeys by following #comodoroots on Instagram and Twitter. So far, there's been a bacon-filled meal in Dallas, and it looks like a good time.
Austin: Jan 15 to 17
Marfa: Jan 18 to 19
Mexico City: Jan 21 to 25
Bogota: Jan 29 to Feb 4
Miami: Feb 4 to Feb 7
Memphis: Feb 8
Nashville: Feb 9 to 10
Smoky Mountains: Feb 11