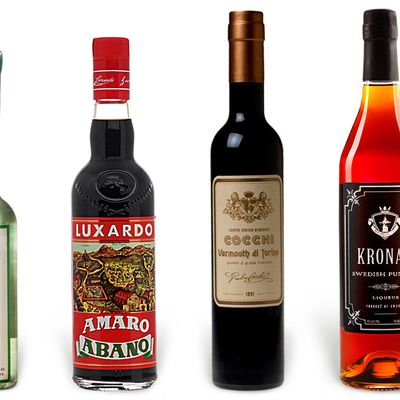 And your hangover will be extra fancy, too.
Building out a great home bar is a long-game prospect: It takes time to prune a respectable collection of first-string spirits and mixing gear. But once you're suited up with all the strapping English gins, malty genevers, chewy mezcals, and rare whiskeys your Ikea shelving unit can handle, what then? In the service of ambitious amateur cocktail savants everywhere, we asked a dozen bartenders to reveal the ingredients they trot out when a drink needs to go to the next level. Read on for alcoholic obscura and game-changing modifiers that will give even your simplest at-home highballs a pro-level boost.
Luxardo Amaro Abano, $22
The ability to enjoy Italian amari is a badge of honor in cocktail circles, with labels like Fernet Branca, Ramazzotti, and Cynar evincing the mo' bitter mo' betta Zeitgeist. Lesser known is the peppery Abano, which Clover Club barkeep Brad Farran favors for its "forest floor" profile. Stirred with apple brandy and Campari in his Orchard in Winter, it makes a fine Negroni variation. At home, sip the stuff — all cardamom, cinnamon, and orange peel — on its own after a large meal. If you'd prefer to mix it, stick to brown spirits (rye, aged rum) or try it in an Irish coffee hack, with espresso, hot water, a sugar cube, and some lightly whipped cream.
Clear Creek Douglas Fir, $55
So explicitly wintery it ought to come wrapped in Fair Isle, this gorgeous green spirit takes it hue and pungent pine flavor from Douglas Fir buds added before and after distillation. The eau de vie perfumes the Pins and Needles at the NoMad, where barman Leo Robitschek uses it to rinse a coupe glass filled with a silky mix of cream sherry, dry vermouth, gin and maraschino liqueur. Go easy on the stuff at home—more than 1/2 an ounce and you're in air freshener territory. It plays well with gin, of course, but it also adds interest to a simple citrus-and-vodka highball or even a bourbon toddy.
Cocci Vermouth di Torino, $18
Carpano Antica, with its loud and proud flavors of tobacco and vanilla, has long been the craft cocktail standard for recipes that call for sweet vermouth. But at Raines Law Room, Meaghan Dorman replaces the ubiquitous Antica with Cocchi Vermouth di Torino for her take on the gin, vermouth, and Fernet classic, the Hanky Panky. This mellower style of the aromatized wine keeps its bouquet of orange, chocolate, and stewed fruit closer to the vest than Antica, making it a lovely solution for home bartenders who want to housebreak a Manhattan or a Negroni. Like all vermouths, this one doesn't have the shelf life of a hard spirit, so store it in the refrigerator and use it quickly.
La Boîte á Epice Spices, prices vary
Lior Lev Sercarz's esoteric spice blends are pantry staples at restaurants like Corton, Le Bernardin, and Philadelphia's Zahav, where a dry spice simulacrum of an Israeli pickle has pride of place in the kitchen. But the spices are also a fine match for cocktails. Blends like Luberon (lavender, basil, and fennel) and Tangier (rose petal, cumin, and cardamom) are natural bedfellows for botanical gin, or you can use them to rim cocktails, as Jeff Bell and Jim Meehan do at PDT. Their Spice Plum is a shake of rum, plum brandy, Damson gin, and citrus, strained into a coupe encrusted with a mix of Demerara sugar and La Boîte á Epice Borneo — long pepper, lemon, and mace.
Al Wadi Pomegranate Molasses, $6
A drop too much of most alternative cocktail sweeteners like honey, agave, or maple syrup can send an honest drink into a lip-curling, sugary tailspin. But this Lebanese export — pomegranate juice reduced until it's thick and sticky — dials down the treacle while adding a tangy thwack of fruit. At Pouring Ribbons, Joaquin Simo uses Alwadi pomegranate molasses in his homemade grenadine, or occasionally a barspoon on its own to sweeten sour drinks (daisies, gimlets, margaritas, and daiquiris). Take Simo's lead at home and try the molasses in citrus-forward quaffs to play up the ruby syrup's natural pucker.
Marolo Milla Grappa & Camomile Liqueur, $60
Audrey Saunders calls this grappa from infamous Alba producer Paolo Marolo "really pretty stuff," and that's about right. Made in a super-analog alembic still, using the pomace (that's skins, seeds, and stems) of Nebbiolo grapes, it naps for eleven months with chamomile blossoms to create an ambrosial liqueur that seems tailor-made for warm cocktails. Sample it in a Ginger-Apple Toddy at Pegu Club, where Saunders and bartender Kenta Goto simmer the Milla with Applejack, lemon juice, ginger beer, and honey. At home, try toying around with the grappa in a drink made with pisco (the South American grape brandy), or with a more herbal spirit like a classic juniper-forward English gin.
Kronan Swedish Punsch, $30
Thanks to the efforts of booze speculators like David Wondrich, punch —a nd its key ingredient, the funky Indonesian spirit Batavia Arack — is still ascendant in cocktail bars. The seventeenth-century naval tradition of infusing spice into that spirit gets its 21st-century comeuppance in Kronan Swedish Punsch, a spice-steeped blend of Batavia Arack and rum in one coppery bottle. Bartender Jeremy Oertel uses the stuff in his Haunted House at Donna in Williamsburg, along with rye, Jamaican rum, ginger syrup, and bitters. If you're experimenting at home, keep in mind that punsch is sweet, so bitter and tart components are essential for balance. Try taming the sugar by mixing it with an amaro and citrus. Or drink it as the Swedes do: in a warm mug beside a bowl of pea soup.
Pok Pok Drinking Vinegars, $17-$19
Prime Meats barman Damon Boelte is known for his experiments with offbeat acids, so it was a happy discovery when he came across Andy Ricker's Pok Pok drinking vinegars. The fruity, fermented soms are incredible with herbal spirits like aquavit, but they're so versatile they will work with just about anything that calls for citrus. Boelte uses the pineapple variety in a julep with Weller 107 wheated bourbon, Dolin blanc vermouth, angostura, and mint. At home, we like the honey som heated with whiskey for a winter warmer, and the apple vinegar in a next-level sour.
Bittermens Orange Cream Citrate, $18
The bespoke bitters-maker boom is one of the more ridiculous outcroppings of the handcrafted-everything movement. (Has Portlandia taught us nothing?) But it's also helped bring erstwhile products like orange bitters — an essential ingredient in many classic cocktails, including the original martini — back to our shelves. This take on the pre-Prohibition staple, from Brooklyn-based producer Bittermens, favors the fresh, juicy flavors of a glass of O.J. to the baking-spice profile of a classic orange bitter. Their Orange Cream Citrate, a tart and sweetish tincture of orange cream and citric acid, is based on a soda fountain syrup. And because it isn't actually bitter, it plays well with amari and other dry spirits. Counting Room bartender Maksym Pazuniak pairs it with Campari, Cynar, citrus, and smoked grenadine in his 8 1/2 cocktail. At home, use the Citrate to bring a dose of day-glo brightness to deep, rich spirits like scotch, or add a drop to any cocktail that calls for an orange garnish (negronis, sherry cobblers, any kind of collins).
Umeboshi Vinegar, $4
In Japan, pickled ume, or Japanese salt plums, are often eaten with rice as part of a bento box meal. But the brine leftover when the fruit is finished soaking also makes for a versatile condiment, bringing added dimension to anything from marinades to cocktails. Umeboshi, often sold and mislabeled as a vinegar, gets its bright crimson hue from the red shisho leaves used in the pickling process. That brine — like a light-bodied soy sauce — is a beautiful match for agave-based spirits, like the mezcal, tequila, and clarified canned peaches in Tristin Willy's Son of a Peach at Booker & Dax. Home bartenders can try using the umeboshi to crank up the tartness in a Smith & Cross daiquiri. Start small; the stuff is viscously salty.
Zucca Rabarbaro Amaro, $30
The name, which is Italian for pumpkin, is a misnomer. The ingredient of record in Zucca — named not for the squash but for a bar in Milan — is actually rhubarb, the tart pink stalks that show up at the Greenmarket around late April. At Dram, Frank Cisneros uses this more delicate style of amaro to dry out sweeter drinks like the bourbon, honey, and lemon Margot Tannenbaum, a Gold Rush revision. At home, you should pair the stuff with whiskey, too: Zucca has the subtle sweetness typical of amari along with a unique natural acidity, making it a dark horse matchup for brawny brown spirits.
Cruzan Black Strap Rum, $18
It smells like a truck stop (black tar and burnt coffee, for those playing along) and pours the color of death. But deployed carefully, this navy rum can lend untold richness to a range of drinks. Sam Ross, of the forthcoming Attaboy, uses the hooch to give rum sours and daiquiris a chocolatey, maple-rich spine. Black Strap is a classic ingredient in tiki cocktails, so at home consider pairing it with lighter rums, fresh tropical fruit juices, and modifiers like orgeat. The Corn N' Oil is an easy Black Strap classic, made with lime juice and falernum. And although the good people at Gosling's would disagree, the rum also makes for a mean Dark n' Stormy.
Jordana Rothman is a New York City-based food writer and former editor of the "Food & Drink" section at Time Out New York. Find her complaining on Twitter at jordanarothman.