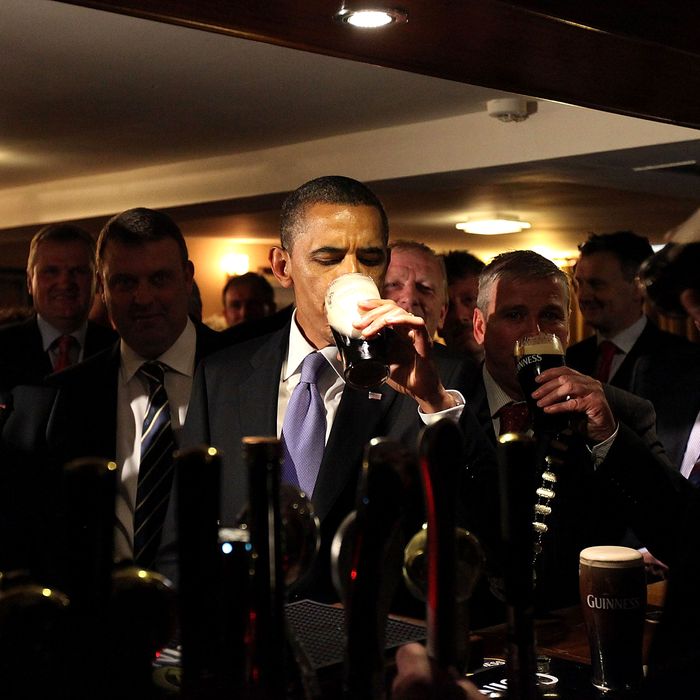 Yes, he can (chug, chug, chug)!
Photo: Getty Images
The president's just tryna get buzzed at his own luncheon, and hustlers (lobbyists) are giving him a hard time. The Senate announced the patriotic menu for the "Faith in America's Future" inauguration meal, and as expected, this event includes American agricultural products, a tablecloth "that picks up the copper and bronze tones of Statuary Hall," and an old-fashioned rose called "Free Spirit." It sounds like a cheesy themed bar mitzvah. The food will include steamed lobster with New England chowder, Hudson Valley apple pie, etc., etc. — what's important is that this is a party, and Obama's going to pop some expensive bottles. Chairman Charles E. Schumer is bringing wine from his home state of New York (holla!): There's a 2010 Riesling from Anthony Road Winery, Fox Run Vineyards & Newt Red Cellars in the Finger Lakes, a 2009 Merlot from Bedell Cellars in North Fork, and Korbel Natural Russian River Valley Champagne. New Yorkers are happy because it's the first time wine from the state has ever been served at a presidential inauguration, but, of course, there are people pissed off about the drinks.
The Champagne Bureau, a Washington lobby for the French Champagne industry, claims that the wine listed on the menu as "Korbel Natural, Special Inaugural Cuvee Champagne, California" breaks the rules. Real Champagne can only come from the region in France, and this bootleg bottle of sparkling wine hails from California. According to U.S. law, winemakers can indeed use the term "Champagne" if the sparkling wine's origins are clearly stated. The bottle's label doesn't mention its home state, and a congressional committee further fucked up by writing "Champagne, California" instead of "California Champagne." Really. Really. Matt House, the spokesman for the Joint Congressional Committee on Inaugural Ceremonies, has some choice words for the French Champagne lobbyists: "Have a glass of their own product and relax." Well said.
Obama Inauguration 'Champagne' Makes French Whine [HuffPo]
Chairman Schumer Announces Inaugural Luncheon Menu & Details [Senate.gov]
French Are Popping Mad About Obama Inauguration "Champagne' [LAT]