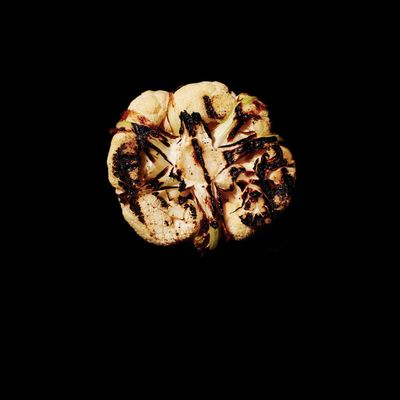 Photo: Victor Prado/New York Magazine. Food Styling by Jamie Kimm
Recently it was the carrot that seemed to be caught in the grips of an identity crisis: first at René Redzepi's Copenhagen restaurant Noma, where it was aged like so much USDA prime (actually, left in the ground until it looked all leathery and almost fossilized), then dug up like an old corpse and braised for two hours in goat's butter. And later at Eleven Madison Park, where a fitter and more youthful-looking specimen was proudly presented tableside, run through a meat grinder, and deemed a reasonable facsimile of steak tartare.
Now it's cauliflower in the role of Vegetable Most Likely to Be Mistaken for a Piece of Meat. Increasingly, the crucifer is being butchered into so-called steaks, a cross-section cut that enables the florets to cohere with the stem and offers a wide surface area for charring. That's how you'll encounter it at Bar Corvo in Prospect Heights, where the whole head is blanched, sliced, griddled on the plancha, then drizzled with garlic-anchovy sauce ($9). At Family Recipe on the Lower East Side, chef-owner Akiko Thurnauer gives her version an Asian spin, seasoning the steaks with the Japanese spice blend shichimi togarashi and saucing them with edamame purée ($19). And uptown at the East Side branch of Salumeria Rosi, Cesare Casella serves something he calls a bistecca cavolfiore ($29), a slab of olive-oil-confited cauliflower that's chilled overnight, grilled to order, and garnished with black rice and almond sauce. The au courant cut even makes a sandwich cameo at Animals in the East Village, where chef-partner Rob Ceraso dresses a curried-cauliflower steak with a "hot flower sauce" of florets puréed with Sriracha. But perhaps no local chef has embraced the role of vegetable butcher as fervently as Blue Hill's Dan Barber, who has carved steaks not only from cauliflower but also beets, carrots, and parsnips. ("Squash didn't work," he says.) In Westchester, at Blue Hill at Stone Barns, they're served from a roving steak cart equipped with garnishes like bone marrow, creamed spinach, and Bordelaise sauce. And back in Greenwich Village, at Blue Hill proper, the $34 cauliflower steak, which returns to the menu this spring, is first "milk-pickled," cooked sous vide, then seared. "The whole idea," says Barber, "was thinking about vegetables as being as rich and meaty as a steak." Lately, though, he feels conflicted about the vegetable-as-protein sleight of hand. "I find more and more I'm not trying to get the thing to taste like meat," he says. "I've evolved."
*This article was originally featured in the February 4, 2013 issue of New York Magazine.