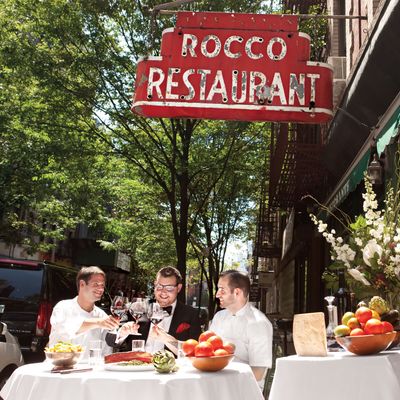 Picnic at Rocco's.
Photo: Mete Ozeren
Jeremiah's Vanishing New York is super-bummed that the new owners of the once-venerated red-sauce joint Rocco's have refurbished the old restaurant's iconic sign and superimposed its new name — Carbone — in bright pink neon swirl. The 90-year-old restaurant closed early last year, and Mario Carbone, with Rich Torrisi and business partner Jeff Zalaznick, is expected to open soon. The blog, however, doesn't understand why, exactly, the owners of Torrisi and Parm have updated the old sign rather than just buy a new one. "A melancholy homage to the lost?" it asks, noting the wave of repurposed nostalgia at restaurants like Fedora and Minetta Tavern. "Or cool cachet?"
Last summer, Torrisi and Carbone explained their plans for the new restaurant, in a New York piece that found them delving into the somewhat ineffable front-of-house service found at revered Italian restaurants like Il Mulino, Rao's, and Scalinatella. The chefs said they were working on creating a more thoughtful dining experience for their newest restaurant. "There's a word for it," Carbone. said. "A piacere, which means as you like it, or to your taste or pleasure." ­
So what does it mean, if anything, that the "once-crooked" neon sign is hanging again with a new name on Thompson Street? Does New York have a nostalgia problem? As time goes on, more old, well-loved restaurants will certainly close and reopen as "fashionable" spots, but if the new owners are essentially food-history geeks who are invested in tradition, does that make them tomb-raiders of New York City's restaurant history, really, or just keepers of the old-school flame? In other words, is the new sign cool or not?
Rocco Gets Carboned [Jeremiah's Vanishing NY]
Earlier: The Torrisi Boys Go Old-School With Carbone