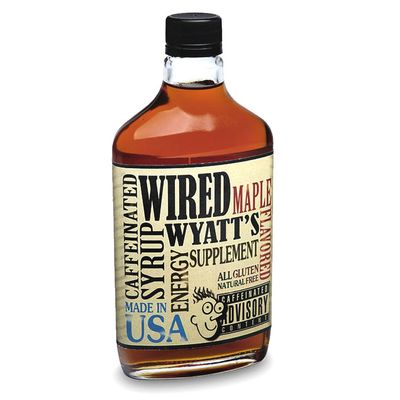 Put it in your coffee!
Photo: Courtesy Wired Wyatt's
"Natural maple flavor," caffeine, butter flavoring, and invert sugar are just four of the ingredients that make up the unholiest of breakfast condiments, Wired Wyatt's Caffeinated Syrup, which retails online for $12.99 per bottle, or essentially, $1.85 per ounce. Sure, you could get by with a few crushed-up Vivarins, a family-size jug of Aunt Jemima Butter Rich, and a balloon whisk, but the whole point of using Wired Wyatt's — with its tweaky label emblazoned with the words "all-natural" and "energy" and Doug Funnie-on-steroids caricature — is to announce to the world that you absolutely adore caffeine. This seems to be something of a trend.
Of course, you may have heard that records of ER visits citing energy drinks have doubled since 2007, so after you uncap your Wired Wyatt's and while you wait for your flapjacks to bubble through, consider this Wired infographic, which depicts the broad array of caffeine-themed products on the market.
There are over-the-counter "shots," boosted drinks, nose sprays, lip balms, sodas, "water enhancers," chewing gum, "energy sheets," "gels," pills, and "refreshers," most of which are underregulated, though the fact that the FDA is investigating potential connections between energy drinks and several sudden deaths would seem to indicate that the multi-billion-dollar "energy" industry sector is about to undergo regulation, so you might as well stock up now. "Americans plow through more than 15 million pounds of powdered caffeine annually," writes Wired, "enough to fill a freight train 2 miles long, all 270 cars loaded to the brim." All aboard, indeed.
Wired Wyatt's Caffeinated Maple Syrup [Tools and Toys]
Inside the Overstimulated, Underregulated Caffeine Industry [Wired]
Earlier: Energy Drinks Cause Even More Trips to the ER