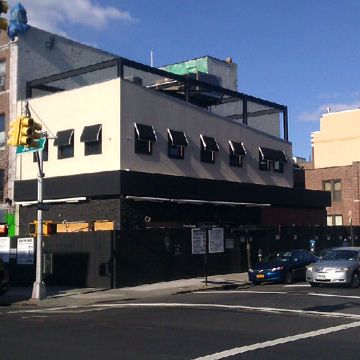 The restaurant will open in April.
Photo: Alia Akkam
Nick Neocleous, who owns Steinway Street fixture Central, is teaming up with Butcher Bar proprietor Matthew Katakis to open an as-yet-unnamed modern American restaurant on the corner of 30th Avenue and 38th Street. The chef will be St. Louis native Ryan Byrd, who worked previously as a chef de partie at Shea Gallante's Ciano and also spent time rolling and shaping dough in Del Posto's intensive pasta program. Byrd most recently immersed himself in whole animal butchery behind the counter at Butcher Bar.
The new restaurant will have a decidedly open-air-café feel, he says, but points out that it will be different from the bevy of frappe hang-outs that line 30th Avenue. The new restaurant "will celebrate Europe and bring people back to the original meaning of a café," says Byrd.
The menu is still under development, but it will definitely feature a range of sustainable meats that will be delivered, naturally, from Butcher Bar. Byrd is growing herbs in the restaurant's backyard, using repurposed wine barrels for planters. The restaurant will open for dinner at first, with a full-bar and a craft cocktail program. Lunch and brunch will follow. "It won't be a serious menu where you have to sit through three courses," Byrd says, adding that he's been working on a starter of homemade baked potato crisps with beef tartare. The chips have turned out whimsically, along the lines of an artisanal Pringle, but he's going with it. "Everyone should feel comfortable but surprised," he says. The restaurant is set to open in early April.