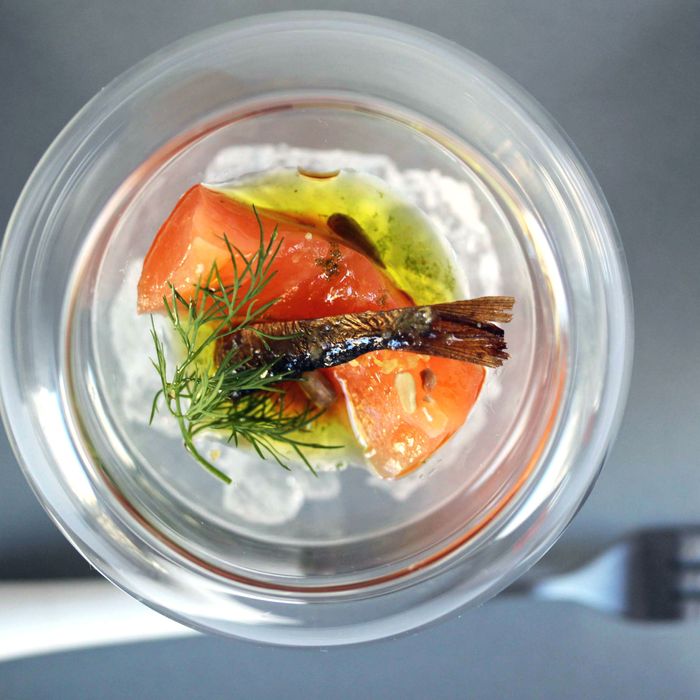 Sea-salt-cured salmon, with sunflower oil, smoked sprat with chile, sunflower seeds, and soy paste.
Photo: Bradley Hawks
The nouveau European restaurant Bear in Long Island City will celebrate the "Old New Year" in true Russian-Ukrainian style on January 14 — that is, in regal commemoration of the Romanoff family, who kept time with the old, obsolete Julian calendar right up until the end. (The commissars installed the Gregorian calender in 1918.) Scaling back from the 30-course dinner she served on December 31, chef Natasha Pogrebinsky will next week offer a three-course "Old New Year" dinner for $50 a head, which comes with wine. The menu includes hot borscht with salo, herring, and short rib Stroganoff served with gravy over a duck-fat-roasted potato and barrel-cured sauerkraut.
The restaurant also recently introduced a seven-course chef's tasting menu, which costs $68 and comes with the potential to upgrade with wine or vodka pairings, and for à la carte snackers, there's a big menu of small bites that starts at $4.
Bear's "Old New Year" menu will be available from 7 to 10:30 p.m. next Monday; reservations are required.
Menu [PDF]