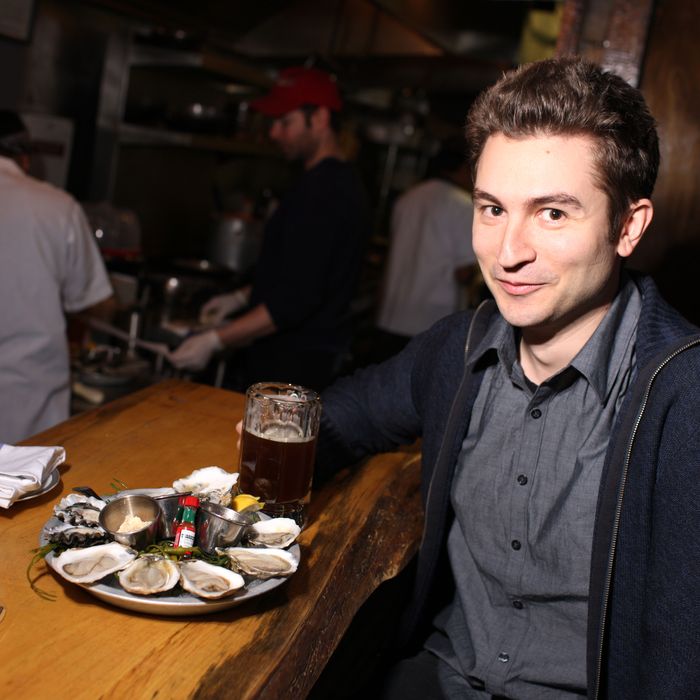 Stupak, cleansing with oysters and beer at Upstate.
Photo: Melissa Hom
"I'm a big fan of leaping before I look," Alex Stupak says. By now the chef's trajectory — moving from pastry chef jobs at Alinea and wd~50 to opening Empellón Taqueria and, less than a year later, Empellón Cocina — is well known. "We opened the second restaurant, like, way too fast." The move seems to have paid off — lots of critics around town have recognized Cocina as one of last year's best new restaurants. That doesn't mean a third Empellón will happen anytime soon, though: "For 2013, I really just want to put my head down and focus on the two restaurants we have." To see what it takes to fuel that — including candy, homemade sausages, a self-described "unlealthy" relationship with mayonnaise, and a New Year's juice regimen that was perhaps inspired by Stupak's previous cleanse — read on in this week's New York Diet.
Friday, December 28
Started the day before noon with two eight-ounce Red Bulls. I typically go way too deep into the day without having anything at all. This is sadly how many of my work days begin — with copious amounts of sugar and caffeine.
Around noon, it was masa crisps. Lauren [Resler, Empellón's pastry chef and Stupak's wife] makes these crackers that we serve our guacamole with. She makes tamales and spreads the batter thin and bakes it. I ate one small piece. Then more tasting. Salsas at Cocina for quality control. There are seven of them. The last spoonful of habanero salsa gave me an endorphin rush.
A little after seven I snuck away from the kitchen for a moment and walked down First Avenue to Upstate. I find myself eating alone this way often lately, which is something I never used to do. I think its become a way of escaping and finding sanctuary for a moment. The second I walked in, a beer was selected for me. I had a dozen oysters that were also selected and shucked for me by the owner Shane. Beyond that I had crab cakes with habanero honey as well as four head-on shrimp with beans and rice.
At 10:30 a.m., I walked across town to meet my chef de cuisine, Peter Lipson. We had a chat in the basement, and I ate a half handful of cold lamb barbacoa.
Was home around 2 a.m. I decided to cook up some of the homemade sausage my dad gave me during Christmas. I had two hot Italian sausages with two fried eggs and some arbol chile salsa, then went to bed.
Saturday, December 29
Ten a.m. that morning I was in a cab back from the Greenmarket, eating random hydroponic lettuce leaves that were sticking out of the bag. When I walked into Cocina for brunch service, someone had bought a spread of doughnuts from this Polish deli next door to us. I just ate two of these cream-filled ones and washed it down with a twelve-ounce Red Bull.
During service I tasted some chilaquiles out of one of my guys' sauté pans: tortilla chips simmered with salsa verde and chicken, crema, and queso fresco.
When brunch service was over, I walked to Luke's Lobster and ordered a lobster roll, pickle, chips, and a blueberry soda. Walked to Tompkins Square Park to eat.
Got back to Cocina and staff meal was over, so I had leftover chicken wings with mayonnaise. I have a very unhealthy relationship with mayonnaise.
During service, I tasted a crab cake taco with sea urchin guacamole and a short-rib pastrami taco. Pastrami has nothing to do with Mexican cooking. But if I was going to go to London and started making tacos, I would reach for Mexican things that were new or exotic, but I'd also reach for things that people there eat every day. I could see a fish-and-chips taco or a goat curry taco. And pastrami is something that's very New York — as long as we don't have an entire menu that way, but like one or two things, I think it's interesting.
At home later that night, I ate an entire bag of mini Oreo cookies. I decided to pair that with a gin and tonic.
Sunday, December 30
Started that day with a meeting at Il Buco Alimentari. Cold pasta with sea urchin, spaghetti with botarga, seared octopus, lasagnetti with rabbit, bison tartare, and an affogatto. I really love that restaurant and respect the hell out of Justin Smilie. There is a gravity about it that seems to pull me in often. I met with Justin and got a five-pound hunk of lardo from him because we're unable to produce it ourselves.
Then around 3:30 I had a taco of lardo with pickled onions and herbs.
Family meal was chicken wings, roasted cauliflower in salsa verde, and a chocolate cake that Lauren made. I had some small pieces of the cake and skipped the rest …
… until around 9:30, when I had some of the leftover cold cauliflower.
Was home around 1:45 a.m. and made a grilled cheese sandwich with mayonnaise, yellow mustard, and a fried egg. Was still up at 3:30, so I boiled two of the bratwursts that my dad made.
Monday, December 31
Two eight-ounce Red Bulls around 10:30 that morning. Then Lauren handed me four packs of my favorite candy. It's called HI-CHEW. Its made primarily of glucose and gelatin, and the texture is so compelling that I eat an entire pack at a time. I ate six pieces of the strawberry-flavored ones.
An hour later I opened another pack of the candies. Green apple that time.
Was in the kitchen all day getting ready for our first New Year's Eve in the East Village. My eating was tasting from the kitchen: cold-smoked chicken with Earl Grey mayonnaise and caviar; mezcal-butter sauce with trout roe; six pieces of thin pork jowl I was cooking; a new dish of masa gnocchi with longaniza gravy, apples, and pork jowl; rib eye that my sous-chef Matt cooked off that had been rubbed in chile ashes; a spoonful of melted cheddar with roasted poblano chiles; and another rib eye scrap off Matt's station.
When the ball dropped, it was time for mezcal and beer with my team.
Lauren and I got home around 2:30 a.m. I'd taken home three ounces of the caviar leftover from our New Year's Eve menu. I plopped it on top of some soft scrambled eggs and served it with a side of wheat toast.
We were still hungry after that so I cooked the remainder of the homemade sausages my dad gave me. The ones left were made out of venison. I ate two of them with Dijon mustard.
Tuesday, January 1
I'm big into resolutions and the idea of resetting yourself. I went to Liquiteria to buy a grip of juice to start cleansing. I felt so disappointed with myself and how much sugar, fat, and alcohol I had been taking in. I want to start the year right. So I bought seven juices and chugged the one with kale, cucumber, romaine, and parsley first.
The rest of that day, more juice: At 1:25, it was the one with apple, ginger, lemon, and cayenne.
At 7 p.m. I had some kale juice with apple and ginger.
7:35: Beet juice.
9:00: Carrot juice with aloe and parsley.
10:00: Apple juice with wheatgrass and mint.
11:07: Kale juice.
11:55: Jogged on the treadmill. I was hungry and short-tempered, so I had a rooibos tea with blueberry. Good night!
Wednesday, January 2
Started the day at 8:15 a.m. with another kale juice.
A couple hours later my sous chef Mike handed me a tortilla with thin slices of cured raw red snapper on it. I'm supposed to be cleansing, but I had to taste it. It was delicious, albeit simple. The idea of cold food in tacos is new and intriguing for us.
2:30: Carrot juice.
Around five, I went to Upstate to shoot the photo for this story. Shane, the owner, handed me eight oysters and a mug of Scotch ale. It was just for the photo, but I ate it all anyway.
That night I want to Taqueria with my partners Adam and David. I'm very uncomfortable eating in my own restaurants, but I'm forcing myself to do it in the new year so I can better understand the perspective of my guests. We had octopus in salsa papanteca, fluke ceviche with mango and mustard seeds, smoked plantain sopes, queso fundido with shrimp and chipotle, scallop tacos, maitake tacos, skirt steak tacos, chicken tacos, chocolate flan, and a passion fruit tart.
My job has changed. I still do all the things a chef does — check in orders, expedite, and cook food — but if I'm doing only that, I'm ignoring a new set of responsibilites that I have to attend to, whether I like them or not. Just the idea of spending time with the key front-of-the-house players, making sure that they understand why the hell we even opened a restaurant. Otherwise we're just serving food and drink instead of dishes that reflect our ideas. I think I have two good restaurants right now, and I want them to become world-class this year — and that alone is going to take a ton of work.