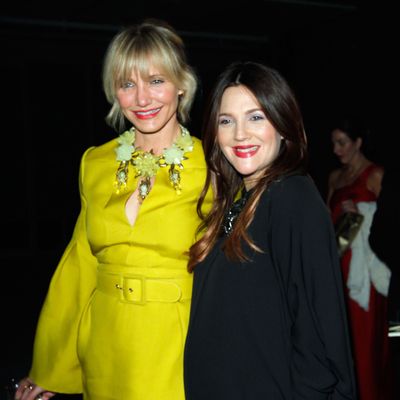 Lucy Liu, where you at?
Photo: Donato Sardella/Getty Images
This week, the movie stars partied at Sundance, the politicians took to D.C., and New York was left with athletes, reality-TV stars, and people who were more popular a decade ago. Drew Barrymore and Cameron Diaz got together at Crown; Kim and Kourtney met with Ryan Seacrest at Bill's Food and Drink; and in something out of a teenage fantasy, New Kids on the Block, 98 Degrees, and Boyz II Men ate and drank at Sons of Essex. This and more ahead in our weekly roundup of celebrity dining.
Arlington Club: Tikki Barber and his wife dined at the Upper East Side restaurant. [Page Six/NYP]
Bill's Food and Drink: Kim and Kourtney Kardashian got dinner in midtown with Ryan Seacrest. [Page Six/NYP]
Crown: Cameron Diaz introduced a mystery man to pal Drew Barrymore and her husband Will Kopelman Tuesday night. [Page Six/NYP]
No. 8: Scarlett Johansson was spotted making out with her French boyfriend, Romain Dauriac, in an upstairs VIP section of the Chelsea club. Her Cat on a Hot Tin Roof co-star Ben Walker was also in the club early Friday morning. Jessica White, on the other hand, missed out on the VIP treatment. The Victoria's Secret model was made to wait at the door as guests arriving for Basketball Wives star Tasha Marbury's birthday party were ushered inside. [NYDN]
Sant Ambroeus: John Galliano lunched with a male friend and Vogue creative director Grace Coddington over the weekend. [Page Six/NYP]
Sons of Essex: Following the announcement of a combined national tour, members of 98 Degrees, New Kids on the Block, and Boyz II Men got together to celebrate. Nick Lachey, Donnie Wahlberg, and others ate, drank, and listened to some old-school hip-hop. [Page Six/NYP]