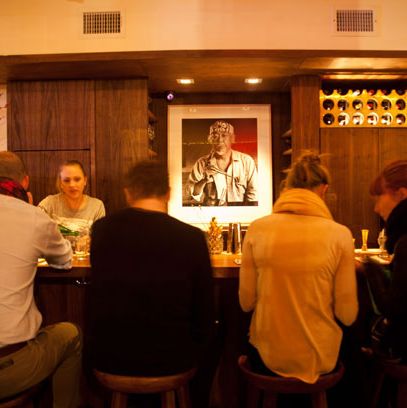 Chez Sardine
Photo: Marvin Orellana/New York Magazine
As New York does with almost everything, the city has taken the basic idea of an izakaya — a Japanese drinking den that's very in line with the now-passé notion of a gastropub — and made it wholly its own. Sapporo, sake, and shochu are constants, but a crop of nouveau-izakayas are taking risks when it comes to the food menus: Modernized dishes like miso-maple salmon head appear alongside more familiar small plates like rice balls, fried tofu, and stir-fried pork belly. Places like Chez Sardine and SakaMai may not be traditional, but they're fulfilling a desire for no-fuss eating and marathon drinking. Yet these new kids shouldn't overshadow the more established (and authentic) izakayas around town. We've rounded up a few of our favorites in the city.
Aburiya Kinnosuke
Midtown is a sea of izakayas, and this one's a standout. The sister restaurant of Yakitori Totto specializes in robata cooking and freshly made tofu. The vibe is more traditional than trendy; you'll see a lot of Japanese businessmen.
Blue Ribbon Sushi Izakaya
The fare is a little Asian and a little Jewish (quite a popular pairing these days). Though it doesn't quite feel like a cozy Japanese pub in here, the menu includes traditional dishes like goma ae, tsukemono, and Hamachi tataki — plus Blue Ribbon's signature fried chicken.
Cherry
BONDST's Jonathan Morr opens his new spot tomorrow in the space below the Dream Downtown. If you hit the sexed-up subterranean restaurant after hours, you'll find a late-night menu filled with interpretations and riffs of izakaya dishes like foie gras and short rib gyoza and uni crispy rice. And since you're in meatpacking, you can "reserve" a bottle of pricey Japanese whiskey.
Chez Sardine
Rob and Robin loved Gabe Stulman's new West Village restaurant, which is a deliberately inauthentic version of an izakaya. Expect succulent plates like raw beef and sea urchin sushi, crispy chicken with kimchee, and miso-maple salmon head.
Izakaya Ten
Sake, shochu, ch-hai, beer, wine, spirits, cocktails: You can, and should, drink anything and everything here. Get sustenance from classics such as shumai, agedashi tofu, and buta kimchee, which is made of stir-fried pork belly.
Kenka
This place stands out in a sea of St. Marks izakayas for its turkey testicles and bull penises. Don't worry: There are also okonomiyaki (cabbage-and-egg pancakes) and BBQ ribs on the menu at this lively restaurant, which is open until 4 a.m. on weekends.
Ootoya
The Manhattan outlet of this popular Tokyo spot has an extensive menu that includes rice bowls, yakitori, soba, and sashimi. It definitely falls in the izakaya-ish category, especially at the bar, where the ex-pat salarymen grab a quick bite.
Rockmeisha Izakaya
You can get grilled pig toe with a pint of Sapporo (it's on draft) at this hidden West Village spot. But if feet freak you out, play it safe with a tofu-and-mushroom steak and miso Brussels sprouts.
Sakagura
This swanky sake bar near Grand Central, which was featured in our "Where to Drink Now: A Seven Day-a-Week Cheat Sheet," is also open for lunch. It's tucked in a "secret location" (the basement of an office building, sexy!) and serves 200 sakes and small plates like grilled rice balls.
SakaMai
This recently opened "Japanese gastro-lounge" focuses more on booze than food, but dishes like uni scrambled egg with sturgeon caviar are earning good marks. There's talk that ramen master Ivan Orkin may step in for a late-night noodle menu.
Sake Bar Hagi
It's tough for the new contenders to top a New York classic. Sake Bar Hagi sticks to Japanese pub fare, and it's rare to find a dish that's over $10 (most are under $5).
Shigure
This Tribeca lounge from Takahiro Okada (Decibel, En Japanese Brasserie) and Jiro Yamada (Bar Veloce) soft-opened a few weeks ago. The rice wine list is 40 bottles deep, and the edited menu of small plates includes a potato-avocado salad that's topped with a poached egg.
Zenkichi
This Williamsburg hot spot nails the intimacy of a Japanese tavern that most New York izakayas neglect. Silky homemade tofu, sweet duck salad, and black sesame mousse round out the menu of shareable dishes.