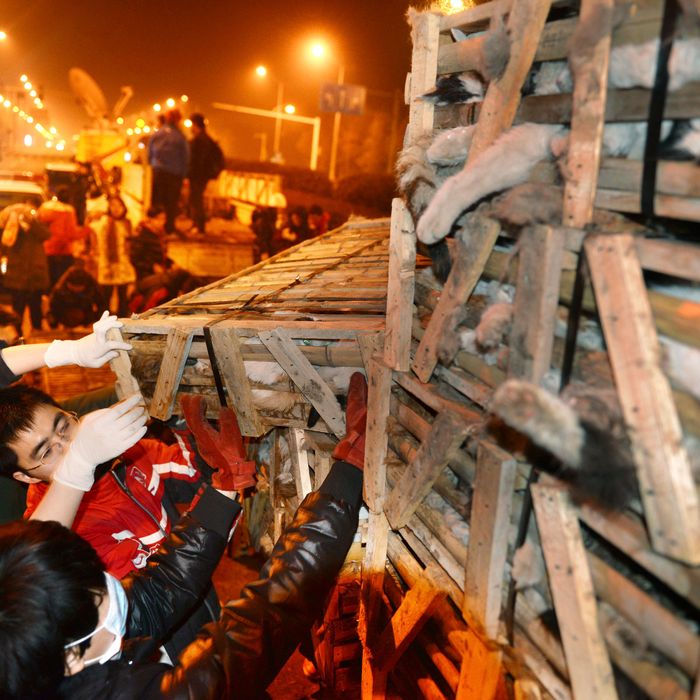 The back of the truck in Changsha.
Photo: Reuters
More than four dozen animal lovers in China sprang into action earlier this week when they heard that a truck freighted with more than 1,000 cats on their way to be sold to restaurants had become disabled after a traffic accident on a Changsha highway on Monday.
The cats had been stranded on the roadside for almost 24 hours by the time help arrived. China Daily reports that the volunteers bought them all from the stranded truck driver for an unspecified amount of money, though the Daily Mail reports that the cats sold to restaurants and butchers wholesale for less than $2 per pound.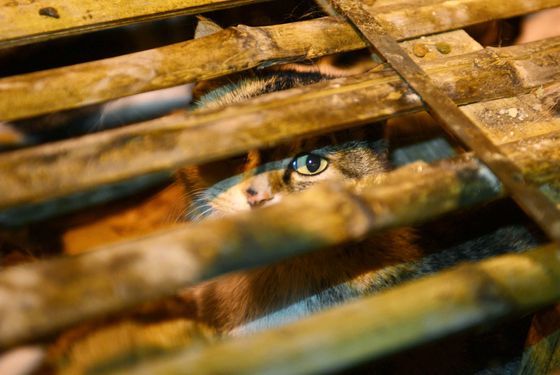 One of the cats, about to be saved.Photo: Reuters

In some parts of the country, cats are raised and collected in rural areas by villagers looking for extra cash. They are sometimes kept tied up with lengths of nylon string. During transport, up to 25 cats may be kept in bamboo and plywood "cages" that are hardly bigger than pallets — around two-by-three feet — for up to two months at a time. They are sometimes kept in cupboards or displayed in cages outside of restaurants, the Daily Mail reports, and customers can choose the cat they want to eat. "People have more money in their pockets now, so for many these so-called delicacies have become affordable," says Jill Robinson of the Animals Asia Foundation. "Eating cat is probably more popular in the south-east than anywhere else but increasingly we are finding that it is on the menu all over China." In this instance, the animals that survived the ordeal were given water and food and then sent to the local SPA.
Though there are movements and groups that seek bans on the sale and consumption of dog and cat meat, a robust market for the animals that might otherwise be pets still exists. Guangdong is one of the few areas of southeastern China where eating cat meat is somewhat accepted. Last year, a billionaire tycoon was killed in the province after eating a bowl of "slow-boiled" cat-meat stew dosed with gelsemium elegans, a toxic herb.
1,000 cats saved from Chinese dining table after being discovered in cramped cages when truck crashed [Daily Mail]
In safe hands [China Daily]