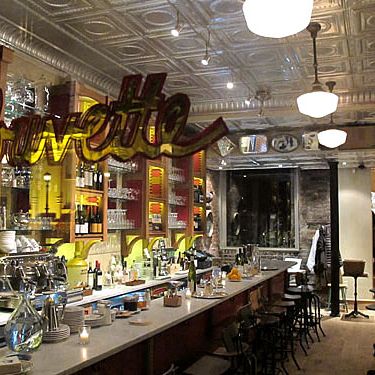 Trade Bleecker Street crowds for French small plates.
Photo: Roxanne Behr
It's that time of year when you realize there are only two weeks left until Christmas, and you've got to brave the crowds to get a gift for everyone on your list. And whether you're throwing elbows at Bloomingdale's or waiting in line for an iPad mini, you'll need to refuel. We've got you covered: We surveyed all of the city's retail-heavy neighborhoods and put together plans based on available time, ensuring that even the most harried of shoppers will be able to find some decent sustenance.
The Neighborhood: Soho
You can spare ten minutes: Smile to Go: The takeout shop, conveniently located across from Opening Ceremony, sells the Bond Street restaurant's greatest hits (like the manouri cheese, fig jam, and truffle oil sandwich).
You can spare 30 minutes: Corcoron: The specialty is superlative soba, but the fresh, homemade tofu with bonito flakes is also a standout.
You can spare an hour: Osteria Morini: Go for pasta if you dare, but you can do a lighter meal too. A glass of wine, some cheese, and a plate of roasted-pork carpaccio with greens will fill you up without weighing you down.
The Neighborhood: West Village
Ten minutes: Victory Garden: The dessert parlor, which specializes in goat-milk soft serve, also has pre-prepared sandwiches, soups, and salads. Lots of ingredients (kale, sweet potatoes, cauliflower) come from the Union Square Greenmarket.
Thirty minutes: Taïm: A fried-to-order falafel sandwich with a date, lime, and banana smoothie. Easy.
One hour: Buvette: Jody Williams's French-inspired restaurant is even more charming during the day. It's a perfect spot to have a leisurely meal of steamed scrambled eggs and tartinettes.
The Neighborhood: Union Square
Ten minutes: The Squeeze Truck: Head to this truck, parked daily on Union Square West at 16th Street, for organic pressed juices. The house-made vanilla almond milk with hemp seeds and dates gives a sweet energy boost without a sugar crash.
Thirty minutes: Num Pang: The Cambodian sandwich shop's seasonal specials include ginger barbecue brisket and grilled local bluefish. But everything tastes good inside a Parisi bakery baguette.
One hour: ABC Kitchen: A three-course $32 prix fixe lunch menu is one of the best deals in town. Ricotta and farm egg raviolo with pork ragout and the salted-caramel sundae are among the options.
The Neighborhood: Herald Square
Ten minutes: Cucina & Company: Tucked inside Macy's is a prepared-food shop with a pasta station and salad bar. Yes, it's touristy, but it's convenient.
Thirty minutes: No. 7 Sub: Kooky but brilliant combinations like broccoli, lychee muchim, ricotta salata, and pine nuts are packed inside warm, crusty bread. Bonus: If you have an extra few minutes, Stumptown Coffee's next door.
One hour: Cho Dang Gol: Sit down and savor the bibimbap at this K-town restaurant, which earned a Michelin Guide recommendation this year.
The Neighborhood: Times Square
Ten minutes: Culture Espresso Bar: A fridge filled with fresh sandwiches made on bread from Sullivan Street Bakery. Warm chocolate chip cookies straight from the oven. You'll have a feeling you're not in midtown anymore.
Thirty minutes: LT Burger: After battling Times Square crowds, you need to treat yourself. Order the Smashed Smoke, a burger topped with black-pepper bacon and New York state cheddar, or the American Kobe with truffle paste, if you're fancy.
One hour: Aureole: A bowl of Charlie Palmer's pumpkin and king crab soup makes for an elegant lunch, and there's also a three-course prix fixe option for $36.
The Neighborhood: Columbus Circle
Ten minutes: Bouchon Bakery: It's not all macarons and dainty pastries here. Hearty quiches and a cashew nut butter and apricot jam sandwich are reliable, quick options.
Thirty minutes: Center Bar: Porter House New York's Michael Lomonaco serves up small plates in this spacious restaurant inside the Time Warner Center. You can sit at the bar and inhale a few oysters on the shell in no time.
One hour: Blue Ribbon Sushi Bar & Grill: Sea urchin sashimi, salmon tartare with quail egg, and miso black cod. Protein.
The Neighborhood: Upper East Side (80th Street and below)
Ten minutes: Forty Carrots at Bloomingdales: The seventh floor of Bloomingdale's houses a frozen-yogurt shop with an estrogen-charged cult following.
Thirty minutes: Maison Kayser: This newish bakery and café from Parisian chef Eric Kayser has solid versions of the classics: croque-monsieur, salad Niçoise, and steak tartare.
One hour: Fred's at Barneys: It's people-watching combined with Palm Beach shrimp salad, lobster club sandwich, and Angus steak. If you're at Barneys, you're not looking at price tags.
The Neighborhood: Upper East Side (81st Street and above)
Ten minutes: Yura on Madison: There are healthy lunch boxes with grilled fish and fresh veggies, but the shop has more than uppity spa food — try the roast beef sandwich.
Thirty minutes: San Matteo Pizza and Espresso Bar: Pizza meets a panino in the panuzzo, filled with things like roasted pork and homemade mozzarella.
One hour: Sfoglia: The Italian restaurant's seasonally driven menu features dishes such as garganelli with Brussels sprouts and delicata squash.
The Neighborhood: Upper West Side (80th Street and below)
Ten minutes: Levain Bakery: The famed walnut chocolate chip cookie, which weighs in at around a quarter-pound, is a meal in itself.
Thirty minutes: Shake Shack: You know what it is. What you might not know is that lines at this location tend to be pretty manageable.
One hour: Sugar and Plumm: This new bistro has a section on its menu that's appropriately titled "big kids." You can get a foot-long Angus beef hot dog and a waffle-and-bacon milkshake here.
The Neighborhood: Upper West Side (81st Street and above)
Ten minutes: Momofuku Milk Bar: This location offers pork and veggie buns to-go, and this month's special soft-serve flavor is oatmeal cream pie.
Thirty minutes: Jacob's Pickles: Would you like a side of cheese grits with your pickles? The answer is yes.
One hour: Barney Greengrass: Bubby-approved smoked fish and chocolate babka. Classic.
The Neighborhood: Williamsburg
Ten minutes: Endless Summer Tacos: This Mexican food truck offers simple and satisfying chicken, pork, beef, chorizo, and fish tacos — plus a popular seitan variation, because it's Williamsburg.
Thirty minutes: Saltie: Go for the signature Scuttlebutt, a kitchen-sink sandwich filled with hard-boiled eggs, feta, capers, black olives, pickled vegetables, and pimento aioli.
One hour: The Meatball Shop: Even if you've been a zillion times, the daily-changing specials help keep things fresh. Bonus: This location has Jell-O shots.