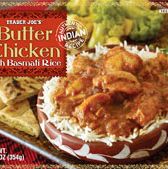 Make your own instead, if just for tonight.
Photo: Trader Joe's
First Valencia peanut butter, now this: Trader Joe's says its house brand Butter Chicken with Basmati Rice meals may be contaminated with listeria monocytogenes. There haven't been any confirmed cases of food-borne illness, but Aliya's Foods, the grocery store's Alberta-based supplier, wants to keep it that way.
The frozen chicken and rice meals were distributed to stores in New York, New Jersey, Delaware, Massachusetts, Virginia, Pennsylvania, North Carolina, Connecticut, Florida, New Hampshire, South Carolina, Maine, Maryland, and Rhode Island. If you're holding, it's a lot code of "305 12" printed on the packaging you're looking for. Trader Joe's wants customers to dispose of these meals, or return them to the store for a full refund.
Updates [Trader Joe's]
Earlier: Trader Joe's Peanut Butter Recall Expands to Other Stores, Other Butters