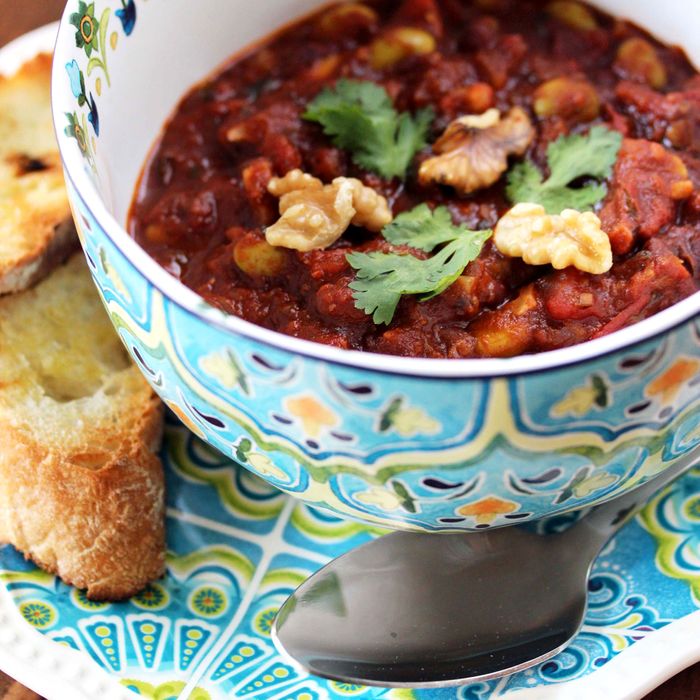 This is "Earth Chili," which is vegan.
Photo: Bradley Hawks
Decorated with boomerangs and a didgeridoo, a new Aussie-by-way-of-Astoria restaurant called the Thirsty Koala is poised and ready to bring some Queensland to Queens, following its final preopening with the liquor authority this week. The Koala is the collaboration of three Astoria mates, the former FDNY chief Katherine Fuchs, a Greek-born bartender Alex Styponias, and Christine Chellos, a financial adviser from Australia.
Fuchs says her opening menu reflects an "Australian flair," a mixture of English traditions and Pacific Rim flavors. Australian-sourced lamb lollies are served over caramelized pumpkin, and the fish for the fish and chips is ginger-beer-battered. There's a true Aussie-style beet-and-pineapple-topped burger, and even a few vegan options including a black bean, edamame, and otherwise legume-rich "Earth Chili." Grilled prawns round out "boomerang" tacos. Down Under desserts include pavlovas, lamingtons, and tiramisu made from Tim Tams.
Of course, there will be Coopers and Fosters on tap, but also a broader array of wines and craft beer from Australia and New Zealand. Cocktails include the "Hooly Dooly caipirinha" and the "Gabba," a gin and honey blend named after the Brisbane Cricket Ground. The restaurant should open officially next week; check its Facebook page for the latest.
The Thirsty Koala, 35-12 Ditmars Blvd., Astoria