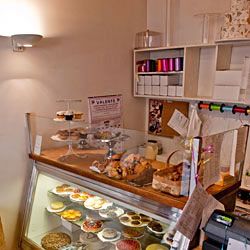 Thank you for the cake.
Photo: Jed Egan
Sad news out of the Upper West Side: The 30-year-old Soutine Bakery, a New York Magazine favorite, has closed. My Upper West reported last month that the space will next be home to Muffins Cafe. The well-loved bakery's owner, Madge Rosenberg, sold some of her recipes to Muffins, according to West Side Rag, and also to Jessica Echevarria, a former Soutine employee who has started her own bakery called One Cup Two Cupcakes. Rosenberg says she'll lend a hand there from time to time.
The diminutive shop was known for using high-quality ingredients and allowing customers to request any number of off-menu special orders. We're sad to see it go, but it's wonderful to hear that Madge's recipes live on. Here's a behind-the-scenes look at Soutine Bakery, whose buttercream-decorated creations were named Best Birthday Cake in the pages of New York just last year.
Soutine, Beloved French Bakery, Closes After 30 Years [West Side Rag]
UWS Openings & Closings: McDonald's, Soutine Bakery, The Muffins Cafe [My Upper West]
Earlier: Video: Best of New York, Birthday Cake Division