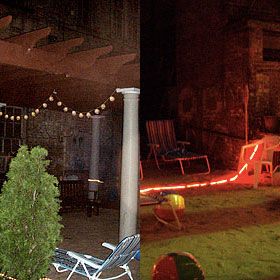 Sand, blood, and lots of bottles.
Photo: Daniel Maurer
After considerable back and forth, CB3 Manhattan's SLA committee last night approved proprietor Drew Figueroa's bid to renew his beer and wine license at the Suffolk, which occupies, along with 5,000 pounds of sand and an assortment of aluminum lounge chairs, the 700-square-foot lot behind the freshly renovated Clemente Soto Vélez Cultural & Educational Center. During the meeting, the Center's executive director, Jan Hanvik, accused Figueroa of stirring "acts of violence," failing to pay rent, drawing rats to the lot to feast on BBQ leftovers, and even leaving behind a bloody shirt after an event in the space.
Figueroa deemed the accusations false and exaggerated, noting that he's run the bar for ten years and also that he formerly had Hanvik's job, an acknowledgement that the arts organization and bar may occupy the same address but do not agree. During the meeting, a former security guard for the Center testified for Figueroa and said management had instructed him to routinely call 311 "no matter what the event." This information seemed to satisfy some board members, who in turn voted in favor of renewal.
But what about the bloody shirt Hanvick claimed was an indication of violence at the bar? Just an accident, apparently, and a misunderstanding: "I'm a runner," he tells Grub Street. "I lost my tooth because I was running and bit into a Cuban sandwich."
Earlier: Sand Storm: Another Blacktop Beach Opens in Manhattan