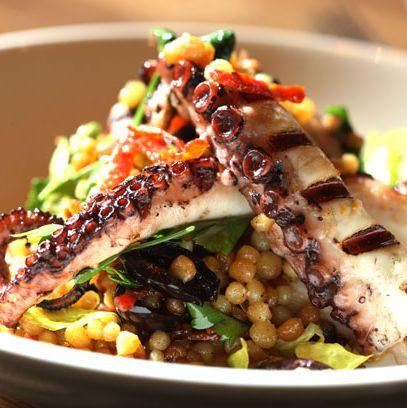 The octopus at L'Apicio, a dish that Wells liked.
Photo: Melissa Hom
Our own critics sat out of the reviewing game this week, but the rest of the city's professional eaters did not. Where did they dine, and what did they think of their meals? Read on to find out.
Pete Wells liked the polenta at L'Apicio so much that he asked chef Gabe Thompson for a recipe (it begins the review). "The polenta dishes, along with most of the pastas and appetizers, are handled so expertly," he says, "that it almost doesn't matter that L'Apicio's grasp of the main courses is much less steady." For that course, stick with cod saltimbocca or lamb scottadito. The impersonal and nightclub-ish atmosphere is "for nights when romance is not on the menu." One star.
Stan Sagner awards four stars to Dumbo's Gran Electrica. "The key here," Sagner suggests, "is to focus on the small." Appetizers like tostada jaiba, rajas de invierno, seta quesadilla, and lengua tacos "elicit sighs of pleasure." Larger plates are less successful, "fragrant" pozole verde notwithstanding. There's plenty of Spanish wines, but "this food clamors for inventive margaritas and super-sized Micheladas, both of which are at the ready." And the all-important guacamole? "Simple and sublime."
In Williamsburg, Robert Sietsema visits Daniel Delaney at BrisketTown, the brick-and-mortar incarnation of a successful pop-up. Sietsema helped himself to "smoke-blackened briskets … crusted with a blackened spice rub that sealed in moisture, which wept as the meat was sliced." Sietsema concludes that the food is "every bit as good as you get in Texas."
Tejal Rao jumps head-first into Filipino cuisine at Jeepney with balut, an unhatched duckling boiled in its shell. With "massive portions of regional dishes," Jeepney is "a bit more traditional than it lets on." She recommends "a slow-roasted pork shoulder … made with Jeepney's own longaniza sausage and pickled chiles" or the "lovely" arroz caldo, which tastes "of golden-fried garlic, but with the texture of silky grits," topped with fried tripe and lemons for squeezing. Service is "caring," and the space is "loud and colorful" — and if you follow Rao's recipe, "even Jeepney's leftovers will make enough to serve two."
Ryan Sutton offers a roundup of the year's "Best New Spots." Despite Hurricane Sandy, "not one of the following selections lies north of 28th St." The usual suspects are here, including Pok Pok Ny and Atera. Mission Chinese and Empellón top the list.
Leo Carey at The New Yorker eats across Japan without leaving 18th St: "Ootoya presents seemingly the whole of Japanese cuisine ― yakitori, noodles, sushi, hot pots, and, for that matter, hamburgers." A mega-chain across Japan and the rest of Asia, it's the kind of no-reservations place Japanese expats go to "in search of home comforts" like ika no shiokara, "strips of raw squid dressed in sauce of its own fermented viscera." Carey finds a bowl of tangly cold soba with stick mountain yam "more immediately palatable." Fried dishes are "sinfully good."
Steve Cuozzo finds Bill's Food & Drink a passable renovation of Bill's Gay 90s, except for the "goofy knife presentation," the wine "ranging from mediocre to vile," the "rogue sea urchin," and the stiff prices (like $37 for six Nantucket Bay scallops). Despite these hang-ups, "Bill's offers [Chef John] DeLucie's most compelling food to date" at this "modern old-fashioned chophouse" that's "private-club classy." DeLucie's "assertive pasta is typified by house-made tagliatelle drenched in goat and lamb ragu," and the rib roast is "what you want to eat when low December sun teases through the curtains."