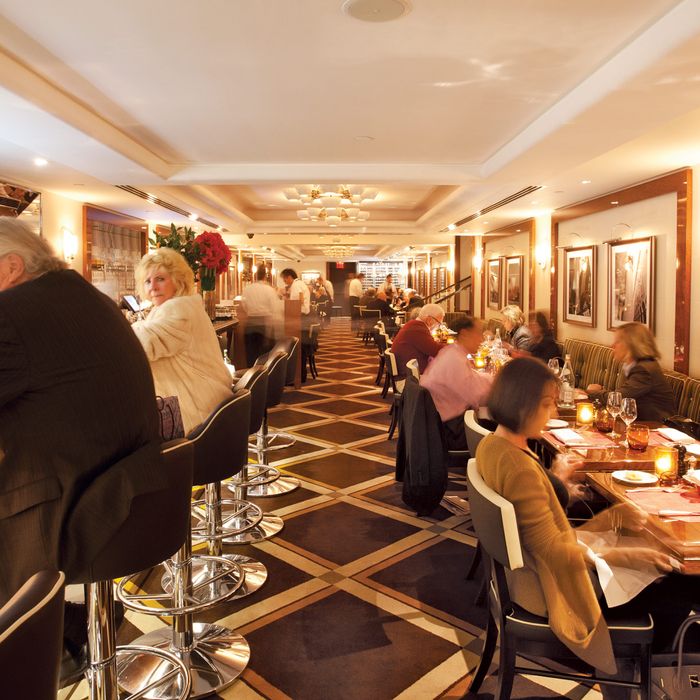 Sirio.
Photo: Victor Prado/New York Magazine
This week, New York's Adam Platt filed a twofer review of Sirio and the Strip House's new midtown location, awarding a lone star to each. Where did the rest of New York's professional restaurantgoers eat lately? Read on to see for your self.
Pete Wells awards two stars to Moti Mahal Delux. The NYC location of the Indian chain showed the critic how "a bowl of lentils can make you go wobbly with happiness" and how tandoori chicken can be so good that it will make you rethink all the previous versions you've ever had. Wells finds the extensive menu inconsistent, but resolves to concentrate on what the restaurant does best, including the vegetarian dishes.
The decor at L'Apicio had Stan Sagner joking that "you might suspect that you have mistakenly stumbled into a Restoration Hardware store." Apps and salads need work, so Sagner suggests sticking to the pastas, "the centerpiece of this menu and deservedly so." These dishes show an awareness of their origins but aren't confined by them. Finally, "a colossal hunk of Cod Saltimbocca settles the question of whether there was anything left in New York to wrap in bacon." Three stars out of five.
Robert Sietsema finds an Uzbek restaurant that welcomes diners uninterested in a vodka-drenched banquet. Nargis Cafe delivers the charcoal-grilled kebabs ("superb and smoky") and salads (most involving some kind of dairy-based dressing) diners expect. The steppe country's colorful ethnic history shows up on the menu with "a fair approximation of Korean kimchi," "great Middle Eastern bread dips," and Georgian wines "sweet enough to take the enamel off your teeth."
Tejal Rao finds soba with "soul and bite," buckwheat noodles rolled and cut daily at Cocoron. They take much longer to make than to eat, which should be done quickly "before the noodles absorb too much broth and start to limp out." (The kinetically inclined and slurp-averse can flash-dip their soba, bite by bite, tableside.) Bonito-kelp broth, soft-boiled eggs, and seaweed and mushroom accompany cold soba dishes.
Ryan Sutton embraces Hearth, where Paul Grieco "explains his love for Riesling by referencing God, Sarah Palin and NATO," and chef Marco Canora holds massively successful fund-raising dinners for Hurricane Sandy relief. Game dishes "in seductively restrained forms," "maitake mushrooms and butter-drunk gnocchi," and "ethereal veal-ricotta meatballs" all shine. If it sounds heavy, it's because it is. Sutton recommends "satisfyingly dense" glazed doughnuts for dessert, then he awards three stars to the spot.
Jay Cheshes reviews El Toro Blanco, a spot that works best when you "leave any yen for region authenticity home." You'll find all the good "tequila-sop snacks" here: guacamole, queso fundido, miniature tacos, "stellar" sweet-corn tamales, and "plump empanadas stuffed with a gutsy mix of roasted short ribs and queso Oaxaca." Three stars out of five.
Ariel Levy at The New Yorker hits the "cozy, kooky pan-Asian cafe" known as Chop Shop, where "subtle takes on traditional Thai, Vietnamese, and Chinese cuisine enlivened by unexpected ingredients and techniques" comes out "toothsome and sophisticated." Standbys like fried vegetable dumplings anchor a regularly shifting menu (Levy enjoyed sour tom yum, Drunken Noodles, and "irresistible" pork buns). Beware the inconsistent service and faux-fancy cocktails and dishes, though "the prices are low enough to take the sting out of the flops" and the restaurant's "charms far outweigh its failings."
In lieu of a formal review, the Post's Steve Cuozzo rants about waiters who push their favorite dishes on customers, even if they might not be any good; and servers who fail to warn when diners' orders inadvertently go astray owing to unclear menus.