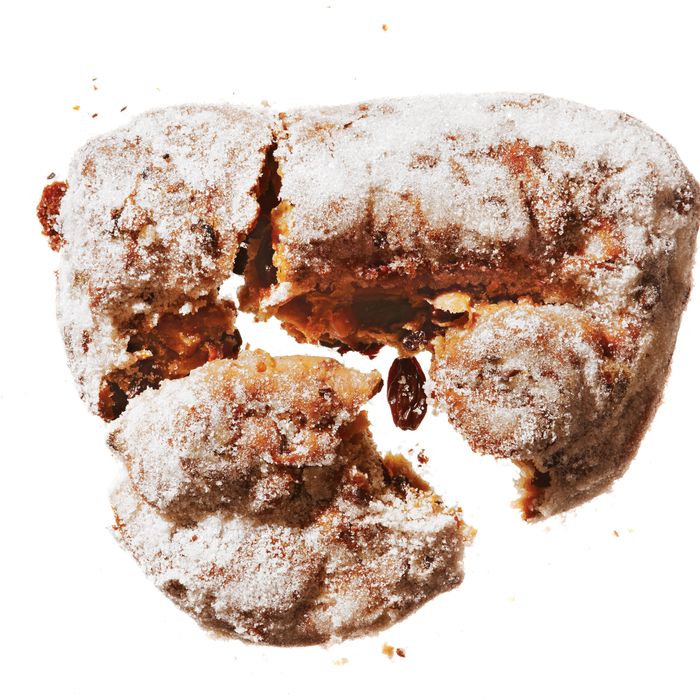 Photo: Victor Prado/New York Magazine
For a holiday bread that started out in fifteenth-century Germany as a flavorless flop, the stollen has come a long way. The earliest versions were made from oats, flour, and water and seem more like something you'd feed to a horse or an inmate than lavish upon a group of Yuletide revelers. Thankfully, things took a turn for the better when Pope Innocent VIII lifted the butter ban on Saxony and the stollen evolved into a rich, dense, marzipan-enhanced treat worthy of its own festival at the Dresden Christmas market. Nevertheless, many New Yorkers are wary of the lumpy loaf, associating it with fruitcake, and not in a good way.
These folks have not tasted the updated versions on seasonal display at local holiday markets. To them we say, mark your calendars for the weekend of December 22 and 23 and make haste to the Brooklyn Winter Flea at Skylight One Hanson. That's where the stollen from California's Big Sur Bakery will make its East Coast debut in an exploratory dip into the tri-state retail market. Pastry chef Michelle Rizzolo's mind-bogglingly good version is a labor-intensive thing unto itself: filled with candied kumquats, quince paste, and Buddha's hand (pictured; $28). The whole spice-grinding, rum-soaking, fruit-glazing process begins in September. "It's my favorite thing I make all year," says Rizzolo. "I'm obsessed with it." The locavore will find stollen satisfaction at Union Square Greenmarket starting December 8, when Hot Bread Kitchen introduces its very first local-flour stollen, crafted by former Per Se head baker Ben Hershberger. It's scented with cloves and cardamom, stuffed with dried cherries and candied citrus, and goes for $12. But why wait until then? Especially since Christina Tosi has already resumed her rigorous stollen-baking schedule, a regimen into which she was indoctrinated as an overworked extern at Bouley, and will be stocking ­Momofuku Milk Bar's booth at Union Square holiday market with her terrific, pistachio-paste-larded loaves ($6) through December 24. Tosi adheres to the time-tested "dunk and roll" technique, bathing the bread in a vat of melted butter and coating it in sugar, essentially creating the ultimate freshness seal. It's all in the timing: The stollen should be completely submerged in the butter, advises Tosi, "for about five Mississippis!"
*This article originally appeared in the December 10, 2012 issue of New York Magazine.