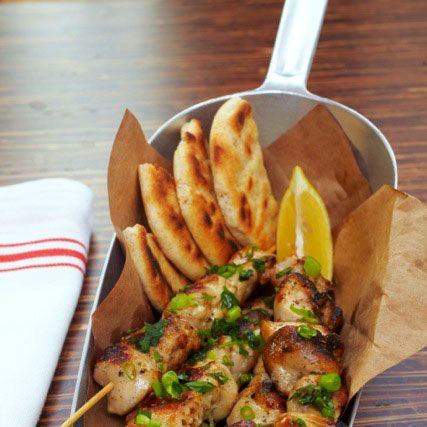 Chicken, on a stick.
Photo: Courtesy of Stix
Stix, which soft-opened on Thursday in Flatiron, is the newest restaurant looking to replicate the success of a chain like Chipotle by cooking ethically sourced meat and serving it in a fast-casual setting. Owner Stathis Antonakopoulos put a roster of meat and fish kebabs at the center of the menu, which also includes a variety of salads made with whole grains, a Greek yogurt bar, and a juice menu that includes flavors like carrot and sea buckthorn, and cucumber-apple with pine. Elsewhere, an ample-sounding coffee menu features espresso piccolos and correttos. These detours, it turns out, indicate serious pedigrees at work: Executive chef Nikolaos Stavrakakis worked at Noma, and Stefanos Domatiotis, who designed the coffee menu, was this year's Greek Barista Champion. Intriguing. Check out the menu after the jump.
Menu [PDF]
Stix, 112 E. 23rd St., nr. Madison Ave.; 212-673-6666