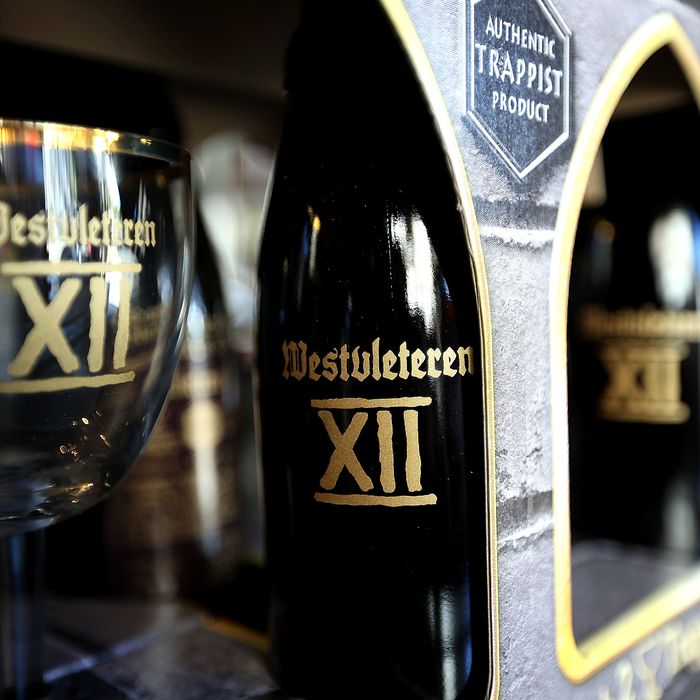 The only.
Photo: Justin Sullivan/Getty Images
Last Wednesday, Pat Johnson went directly to the Top Hops beer shop on the Lower East Side at 9 a.m. after his overnight cab shift. When Top Hops' owner Ted Kenny arrived at ten, he felt so bad for Johnson that he gave him a chair. Soon others joined him, and a long line formed. By 1 p.m., it stretched beyond Shake Shack lengths and into Depression-era breadline territory. At one point, a passerby stopped to ask just what was going on. The group was there to buy beer, someone in line said. The passerby looked incredulous. But it wasn't just any beer. The group was waiting to buy Westvleteren XII, a beer many consider the world's best and also quite possibly the rarest.
Westy 12 is mythic among beer lovers. It's a strong, high-alcohol quadrupel that ages like wine in its bottle. It is made by Trappist monks who live by the motto "We are not brewers. We are monks. We brew beer to be able to afford being monks." The monks' output is tiny, so merely tracking the beer down can be an Ahab-esque task.
For a long time, Westy wasn't technically sold anywhere but West Flanders, in Belgium. Americans could buy it on the gray market or trade for it. But even if you are in the beer's hometown, buying it from the monks is arduous: First, you call the "beer phone." The operator gives you a time to arrive. You pick up a case, the only one you'll be allowed to buy for 60 days. Your phone number and license plate are checked against a list on file. You agree not to resell it. The measures are meant to limit demand, but, as influential beer site RateBeer owner Joe Tucker points out, "The closed-doors thing amplifies the hype." In 2002, RateBeer (then much smaller but nevertheless influential) called Westy 12 the best beer in the world.
The monks responded to the world's-best mantle and increased demand by keeping production at World War II levels, about 3,800 barrels a year. By 2005, the venerable beer critic Tim Webb personally blamed RateBeer when a film crew caught two guys pummeling each other in line, and a monk implored USA Today to tell readers to stop caring about the beer so much. That was when another influential site, BeerAdvocate, handed Westy its world's-best trophy.
Last week, people like Pat Johnson lined up at beer stores around the country because it was the first time the beer had ever been released in America. (Publicly, the Trappists said last week's release was an attempt to raise capital to rehab the abbey's roof.) The abbey worked with importer Shelton Brothers for a year and a half, and after months of delays, they settled on the well-timed date for the release: 12/12/12.
On December 4, Shelton listed the participating retailers. In New York, ten spots shared 240 "bricks," commemorative six-packs the monks priced at $85. Each bottle is stamped with the phrase "Ad aedificandam abbatiam adiuvi," or "I helped build the abbey.
As with any high-stakes release — a new Harry Potter book, a retro Air Jordan rerelease — there was connivery. New Beer, a warehouse on Chrystie Street, brazenly flouted the 12/12 embargo and sold all of its bricks, at $115 each, to a select group of people the week before.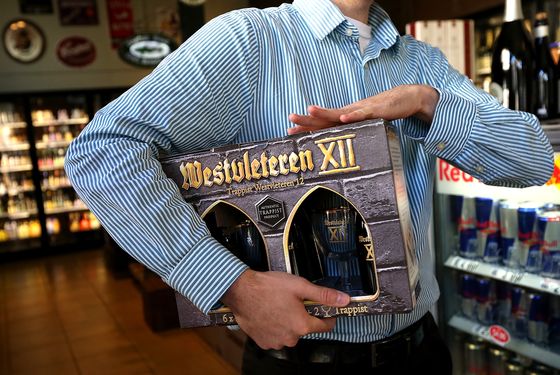 One fan gets his hands on a much-coveted "brick."Photo: Justin Sullivan/Getty Images

The epicenter, beerophiles learned, was Top Hops, where owner Ted Kenny scored 120 bricks — half of New York's entire supply. "We got more than some states," he said. He sold out by 3 p.m. Other sellers (Good Beer, Beer Table Pantry) opted for presale. By 5 p.m., the bar staff at the Cannibal in Murray Hill was answering the phone with "The Cannibal. We don't have any Westvleteren." Manager Cory Lane estimated they'd fielded at least 300 calls by that point. One bartender was threatening to disconnect the phone.
But for aficionados, there's always another rare beer to track down. (You'll find plenty of so-called "white whale" lists; for a lot of people — mostly guys — beer ratings are as important as baseball stats.) In 2010, a beer called Pliny the Younger, a draft-only hop-heavy IPA from California's Russian River Brewery, dethroned Westy 12 on BeerAdvocate's Top 100. On BeerAdvocate's five-point scale, Pliny and Westy remain neck and neck: 4.66 and 4.64 respectively. To Westy diehards, Pliny is gimmicky and seasonal. But Westy fans praying for a brick of their own have to give Pliny one thing: Its annual release is less than two months away, and Santa Rosa is a lot closer than Belgium.