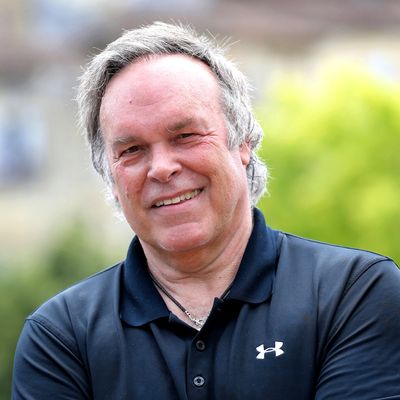 Why is this man smiling?
Photo: PATRICK BERNARD/AFP/Getty Images
The Wall Street Journal reports that Robert M. Parker, who popularized his now-ubiquitous 100-point rating system and changed the nature of the wine business, is stepping down from his role as editor-in-chief at The Wine Advocate, the vastly influential wine-review publication he started in 1978 with a $2,000 loan from his mom and a few mimeographed copies. The publication has grown to 50,000 subscribers over the years and now occupies a central position in the global wine trade.
The 65-year-old Parker is said to be turning over the top position to Singapore-based writer Lisa Perrotti-Brown. WSJ says Wine Advocate will move its main base of operations to Singapore as well and will hire a China-based correspondent to cover the burgeoning wine production throughout Asia. It has already been speculated that the "hedge funders" who now own the publication (a.k.a. a "shadowy group of investors in Singapore") will change Advocate's tone and scope.
The post-Parker Wine Advocate will accept advertising for the first time ever and cease publication of its print edition, which will apparently come as a shock to old-time Advocate readers. "Maybe we will offer them Kindles," Parker tells the paper.

Big Shake-Up at Robert Parker's Wine Advocate [WSJ]
The Robert Parker bombshell [Reuters]