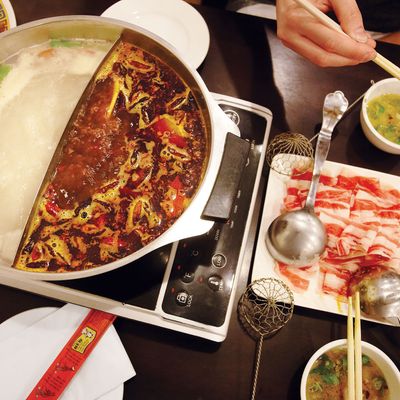 Little Pepper Hot Pot
Photo: Victor Prado/New York Magazine
This week, New York's Rob Patronite and Robin Raisfield took to Flushing for Little Pepper Hot Pot, and found it worthy of four stars. But where did the other critics dine this week? Read on to find out.
"Smoking-hot oil is often the elixir of happiness at Royal Seafood," Pete Wells reports. The "old-school" crispy fried chicken, the Peking-style pork chops, and fried crispy bean curd prove it. The cuisine is "very close to Cantonese, the original flavor of Chinatown, with enough modern Hong Kong flourishes to let you know that it's 2012." The atmosphere (seating is "like a high-speed game show in which the prizes are dumplings"), the dim sum ("priced to move"), and the sharable portions reminded the Times critic why we eat in Chinatown. He gives the spot one glowing star.
Jay Cheshes discovers that a successful magazine career doesn't mean you can reboot restaurants. He's talking about Vanity Fair editor Graydon Carter, of course, and Carter's revival of the Beatrice Inn. The insider dynamic pervades many of Carter's spots; The Beatrice Inn somewhat less so. "The monochromatic fare is so tame," Cheshes says, "you might call it postfoodie, and you might wonder if there's a secret menu somewhere that plebeian diners don't receive." The verdict: "Vanity Fair's culinary hatchet man, A.A. Gill, has savaged better restaurants than this."
Steve Cuozzo visited El Toro Blanco and found 90-decibel a party scene, "but it's a party with better comidas than it normally takes to please your average guzzler choosing from among 100 different tequilas." He gives the spot two stars. The food avoids any commitment to regional authenticity, and so "is less inclined to shock." Still, "Well-modulated chilies spark dish after dish without overwhelming everything else on the plate," giving a hard edge to the guacamole while firmer masa rendered green corn tamales Cuozzo's favorite. Tacos are priced to fill, and a few main courses "register as modern-American with south-of-the-border accents." Crispy churros put their distant street and subway cousins to shame.
At the (literal) top of the Korean barbecue world, the Daily News's Michael Kaminer can't quite figure out Gaonnuri: "The pieces are in place. The intentions are good. But something's off." Starting in the lobby of the midtown office tower, the service gets harried and confused, plagued by "epic" waits between courses. Though the cuisine "does not soar quite as high" as the restaurant itself, "its take on traditional Korean comes off more refined than most K-Town joints." Three stars out of five.
The city's best Japanese fast-food strip shares the block with the Public Library lions, according to Robert Sietsema. Three joints make East 41st Street carry on the good work of Yagura, a legendary Japanese bodega. At Sunrise Mart, a fusion impulse results in some "oddball" offerings, but more conventional fare such as okonomiyaki and doburi earned Sietsema's praise. Mai Cuisine has refrigerator sushi "better than you'd expect," augmented by daily hot specials (pig-foot tonkotsu ramen; a refreshingly light udon soup floating lily pads of sweet fried tofu) and a more relaxed atmosphere. Cafe Zaiya offers "mind-bogglingly cheap" daily specials, like a rice bowl topped with cubed bean curd in a ground-pork sauce (mahbo donburi) for $4.49. These are workday haunts, closed by 6:30.
Tejal Rao dines at L'Apicio, "a glassy cathedral" reminiscent of "that one restaurant in every American town where the people with money come." The wine list "is a delight for spendy drinkers" and "competent" service sporting "rolled-up sleeves and hairless forearms" serve the food: "esoteric pastas in unexpected applications" succeed ("try the little packages of agnolotti filled with a hot sweetbread mousse"), and ordering a polenta board is "in your best interest." So is avoiding the overseasoned cod saltimbocca and "clunky" bistecca. Finish the night with crème fraîche panna cotta, "thick and wobbly on its gingersnap base."
Bloomberg's Ryan Sutton awards four stars, his's highest rating, to Blanca for its "25-course, $700 food fest." Blanca can seemingly pull off anything, from Metallica on the record player to rare-roasted yearling with a crystal clear mint jelly to Maine seaurchin in a pool of tart radish yogurt. "No, this is not Le Bernardin, Daniel or Jean Georges," Sutton has to remind himself. "It's four-star, Brooklyn- style."
Since "gastropub" induces eye-rolls, Hannah Goldfield at The New Yorker instead suggests that "what the city could use more of is, simply, bars with great snacks." Williamsburg's Allswell "fits the bill." Taking cues from British classics, Nate Smith (formerly of the Spotted Pig) prepares a rich, fatty seasonal menu, like rillettes "packed tightly into a small glass jar and sealed with a thick layer of creamy, peppered lard for spreading on toast triangles," and a veal potpie big enough to share. Elegant cocktails and a brunch menu complete the criteria and end Goldfield's hunt.