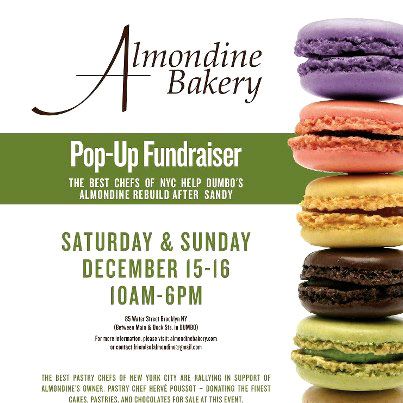 Help the Dumbo bakery get back on its feet.
Photo: Almondine Bakery
The basement production kitchen at Dumbo's beloved French bakery Almondine was flooded with East River surge during the storm, blowing out its electrical panels and leaving its confectionery machines, stand mixers, sheeters, refrigerators, and ovens submerged for more than a day. By the time owner Hervé Poussot was able to pump out his kitchen at 85 Water Street, there was nothing left to salvage, forcing him to close his flagship and Park Slope locations, possibly forever. Determined to keep the baker in business, however, Poussot's customers and friends have banded together to encourage him to rebuild, and they're holding a big event this weekend you might want to check out.
Tomorrow and Sunday between 10 a.m. and 6 p.m., an unprecedented roster of chefs and restaurateurs are set to descend upon Dumbo with offset spatulas, choux pastry, and piping bags to help get this great big beautiful cake re-iced. It is, in a way, the bake sale to end all bake sales: Chocolate, coffee, macarons, croissants, and an assortment of other buttery miracles will be available in abundance.
Goods and treats from Dominique Ansel Bakery, Paris Gourmet, La Colombe Coffee, Daniel Boulud, Cannelle Patisserie, Payard, La Maison du Chocolat, Ceci Cela, Financier, Bosie Tea Parlor, Valrhona chocolate, Le Bernardin, Cafe Pushkin, Provence en Boite, LeCoq Cuisine, and Bouchon Bakery will be sold. All funds collected during the bake sale will go to Hervé Poussot and Almondine Bakery. If you cannot make it to Dumbo but still want to help, the bakery has a Go Fund Me page where you can donate directly, or visit the Friends of Almondine Facebook page to follow the rebuilding effort.