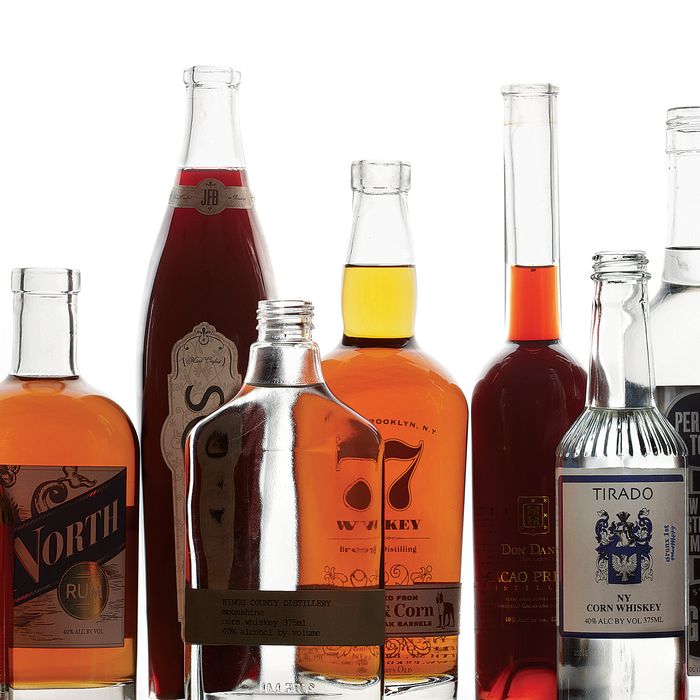 Photo: All photos by Victor Prado/New York Magazine
There's never been a better time to make hard ­liquor in this town—or a better time to be a locavore boozehound. Recent laws have made it much easier (and cheaper) to open a small distillery: If producers agree to source their raw materials primarily from New York State, they can apply for a farm-distiller's license, reducing the annual fee considerably and, as of next April, allowing them to sell their wares at farmers' markets. New York has a long history of micro­distilling (both legal and not), and nearly a century after Prohibition wiped out so many businesses, craft operations have made a comeback—a confluence of the booming DIY artisanal food-and-drink movement and the enduring classic-cocktail craze. Here, an introduction to the new breed of New York ­distillers and their microbatch spirits.
The Noble Experiment, Bushwick, Brooklyn
The distiller: Bridget Firtle, a former global-alcoholic-beverages analyst who, either fatefully or coincidentally, grew up in a house where a speakeasy once operated in Rockaway Beach, a hub of Prohibition-era rum-running.

The booze: Owney's NYC Rum, named for a notorious gangster during "the Noble Experiment," a.k.a. Prohibition. Coming soon: bourbon, rye, and a dark rum.

On the market since: October 2012.

Try it/buy it: Astor Wines & Spirits (399 Lafayette St., nr. 4th St.; 212-674-7500; $35), or tour the distillery (23 Meadow St., nr. Bogart St., Bushwick; 718-381-3693; advance registration required).

Tippling tip: It's good in a classic daiquiri with a little simple syrup and lime juice.

Tirado Distillery, Woodstock, the Bronx
The distiller: Renee Hernandez, a Bronx-born internal-medicine doctor with a degree in chemistry from Fordham.

The booze: A clear corn whiskey made from New York corn, plus Tirado Gold, an aged corn whiskey; Tirado El Caribe, a sweet whiskey; Tirado Black rum; and Tirado Maple Delight, fermented diluted maple syrup.

On the market since: August 2011.

Try it/buy it: Tastings at the distillery are held Wednesdays and Fridays; call 917-974-0380 for reservations (888 E. 163rd St., nr. Westchester Ave., the Bronx; tiradorum.com). Sold at St. Marks Wine and Liquor (16 St. Marks Pl., nr. Third Ave.; 212-529-9463; $17 to $45).

Tippling tips: Pair the Maple with ginger ale, make a mojito with the Gold, and just pour the sweet whiskey over an ice cube.

Kings County Distillery, Brooklyn Navy Yard
The distillers: Colin Spoelman, an architectural-firm employee from Kentucky, and David Haskell, an editor at this magazine, were the first in the city to distill whiskey since Prohibition.

The booze: Corn whiskey they nostalgically call moonshine, and bourbon.

On the market since: August 2010.

Try it/buy it: Weekend tours and a "Boozeum" at the distillery (Saturdays from 2:30 to 5:30 p.m., $8; Paymaster Building, Brooklyn Navy Yard, enter nr. Navy and Sands Sts.; kingscountydistillery.com). Bars and liquor stores like Fort Defiance (365 Van Brunt St., at Dikeman St., Red Hook; 347-453-6672) and Astor, $20 for a 200-ml. bottle of moonshine.

Tippling tips: The bold, corn-heavy flavor of the moonshine shines in a simple sour, but drink the bourbon neat.

Van Brunt Stillhouse, Red Hook, Brooklyn
The distiller: Daric Schlesselman, a Daily Show video editor.

The booze: Schlesselman calls his rum Due North—a sailing term for a particularly fortified ration of grog, a rum-and-water drink. He also distills grape residue from three New York wineries into grappa, and will release a whiskey on December 15.

On the market since: April 2012.

Try it/buy it: The Pines (284 Third Ave., nr. President St., Gowanus; 718-596-6560) carries the rum; you can buy a bottle at Dry Dock Wine + Spirits (temporarily located at 370 Van Brunt St., nr. Wolcott St.; 718-852-3625; $39).

Tippling tip: The full-flavored, spicy rum stands up to a strong ginger beer in a Dark and Stormy.

Cacao Prieto, Red Hook, Brooklyn
The distiller: Daniel Preston, an inventor and former defense contractor. Today, he's the only person in the world distilling cacao, using beans from his family's farm in the Dominican Republic.

The booze: Cacao rum and liqueur, plus Widow Jane, a bourbon aged five years.

On the market since: April 2012.

Try it/buy it: Preston sells bottles as well as his own brand of chocolate at the company store (218 Conover St., nr. Coffey St., Red Hook; 347-225-0130; $52 for the bourbon and the rum, $48 for the liqueur).

Tippling tip: The flavors of the cacao spirits are unique enough to enjoy alone, especially as a dessert drink.

Greenhook Ginsmiths, Greenpoint, Brooklyn
The distiller: Steven DeAngelo, a former interest-rate broker.

The booze: An aromatic, vacuum-distilled American Dry gin and beach-plum gin liqueur, which is made with Northeast-grown fruit and inspired by sloe gin (liqueur flavored with sloe berries, a cousin of the plum). A nineteenth-century-style gin, a sweeter product, is in the works.

On the market since: February 2012.

Try it/buy it: The Wallace (919 Fulton St., nr. Waverly Ave., Clinton Hill; 347-689-9137) stocks the American Dry, which can also be found at Brooklyn Wine Exchange (138 Court St., nr. Atlantic Ave., Cobble Hill; 718-855-9463; $33).

Tippling tips: Experiment with cocktails like a Tom Collins and a gimlet.

New York Distilling Company, Williamsburg, Brooklyn
The proprietors: Allen Katz, Tom Potter, and Tom's son, Bill Potter. Katz was chairman of the board of Slow Food U.S.A., and Tom co-founded the Brooklyn Brewery. Bill has worked in the restaurant industry for years.

The booze: Dorothy Parker American Gin and Perry's Tot,
a "Navy-strength gin" named for Matthew Perry, an 1840s commandant of the Brooklyn Navy Yard, with a whopping 57 percent alcohol by volume. A rye is currently being aged.

On the market since: December 2011.

Try it/buy it: The Shanty, NYDC's on-premise cocktail bar (79 Richardson St., nr. Leonard St., Williamsburg; 718-878-3579), has a window looking onto the production room. Also at Chelsea Wine Vault (75 Ninth Ave., at 15th St.; 212-462-4244; $35 for the Dorothy Parker).

Tippling tip: Superstrong gins are best in tall cocktails like gin rickeys that preserve the flavor but dull the heat.

Breuckelen Distilling, Greenwood Heights, Brooklyn
The distiller: Brad Estabrooke, a former Wall Streeter.

The booze: Glorious Gin, distilled from New York-grown wheat, and two kinds of 77 Whiskey: one made from wheat, the other with rye and a small amount of corn, both aged in American oak barrels.

On the market since: July 2010.

Try it/buy it: Until the tasting room is renovated, sample the gin at Il Buco Alimentari e Vineria (53 Great Jones St., nr. Bowery; 212-837-2622), and buy some at Astor ($30 for the gin, $40 for the wheat whiskey).

Tippling tip: Try the rye in a Manhattan.

Jack From Brooklyn, Red Hook, Brooklyn
The distiller: Jack Summers, a former magazine-production director who began as a hobbyist making a version of sorrel, a Caribbean drink concocted from dried hibiscus flowers and baking spices, for family and friends.

The booze: Sorel, a hibiscus liqueur that's made by macerating the flowers and a variety of botanicals in a neutral spirit.

On the market since: May 2012.

Try it/buy it: The Red Hook distillery sustained significant storm damage, but tastings will resume when it reopens. Pick up a bottle at Park Avenue Liquor Shop (292 Madison Ave., nr. 41st St.; 212-685-2442; $28).

Tippling tips: With Prosecco at brunch; warmed as an after-dinner digestif.

Industry City Distillery, Sunset Park
The proprietors: Five young entrepreneurs who started a distillery through their research-and-design group, the City Foundry, where they not only built their stills and fermentation systems but even make labels on their own letterpress.

The booze: Federal regulations mandate that the product be called vodka, but it bears no resemblance to the comparatively bland spirit drinkers are accustomed to. By using beet sugar as a base, they create less waste than they would with potatoes or grain and achieve a more flavorful result.

On the market since: April 2012.

Try it/buy it: Sycamore (1118 Cortelyou Rd., nr. Westminster Rd., Kensington; 347-240-5850); Bowery & Vine (269 Bowery, nr. Houston St.; 212-941-7943; $23 for a 375-ml. bottle).

Tippling tip: Try it neat to appreciate the bright, floral flavors and lack of throat-burning heat.
Drink Local

Five invigorating cocktails made with homegrown hooch.
Martinez, $13

The fabled precursor to the martini, believed to have been invented in California, is made here with Greenhook Ginsmiths' American Dry gin.

The Spotted Pig, 314 W. 11th St., at Greenwich St.; 212-620-0393.
Blue & Gold Buck, $11

Peach-spice bitters and ginger ale pair well with the bright, fruity notes in Industry City's No. 2 vodka.

Parish Hall, 109A N. 3rd St., nr. Berry St., Williamsburg; 718-782-2602.
Hanky Panky, $14

New York Distilling Company's Dorothy Parker gin meets sweet vermouth and Fernet-Branca.

Bill's Food & Drink, 57 E. 54th St., nr. Madison Ave.; 212-518-2727.
Brooklyn Sling, $11

Jack From Brooklyn's Sorel liqueur adds spicy notes to Brooklyn Gin, which is actually distilled upstate.

Huckleberry Bar, 588 Grand St., nr. Lorimer St., Williamsburg; 718-218-8555.
#DineOutNYC, $10

This hyperlocal libation incorporates Widow Jane bourbon from Cacao Prieto, Jack From Brooklyn's Sorel, and apple cider from the Finger Lakes.

Alison Eighteen, 15 W. 18th St., nr. Fifth Ave.; 212-366-1818.
*This article originally appeared in the December 17, 2012 issue of New York Magazine.