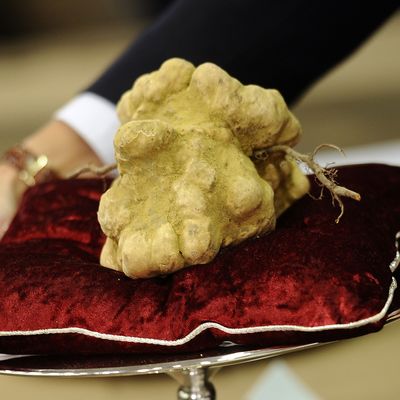 White Alba truffles: Cloudy, with a definite chance of flurries.
Photo: FILIPPO MONTEFORTE/Getty
Last week, the Food Section took the appropriate steps to make sure no one forgets about butt-chugging and pink slime in 2013 with its roundup of this year's stand-out neologisms and other food terms, which got us thinking: It's been an exceptional year for food words. The Times gave broader circulation (and immortality) to the words "Donkey Sauce" and "bleu-sabi" when it published its now-famous negative-star review of Guy's American Kitchen last month, so much that Pete Wells might as well have chiseled the Guy Fieri's menu onto a solid gold record and launched it, with a message from the U.N.'s secretary-general, into deep space, à la Voyager 1. While butt-chugging and Donkey Sauce were getting all the play, no one noticed that sriracha made it into the Oxford English Dictionary.
So first, congratulations, sriracha!
But moreover, no neologisms or portmanteaus as potent as 'locavore' have seemingly entered the fray this year. They're out there, though, and here are six of them, flapping away in the zeitgeist, that should have gotten broader circulation.
The word: Faux-raging
What it is: The blatant misappropriation of the word used to describe rummaging through the wilderness in order to find edible things to describe conventional shopping experiences. We love you, Whole Foods, but when your appointed "forager for artisanal foods" is someone who just visits Smorgasburg on Saturday to convince grilled-cheese-sandwich purveyors to come set up shop on Houston Street, that is not foraging, it's called taking the subway to Williamsburg.
Where it comes from: In January, when Marcia Gagliardi of Tablehopper called out restaurants for overusing the buzzword on menus. "Going out to your restaurant garden and cutting some rosemary isn't foraging," she wrote. "That's faux-raging."

The word: Foodhazing
What it is: People who love to eat taunting their ilk with delicious-looking food on Instagram, Twitter, and other outlets.
Where it comes from: Popularized by Marvel Comics' C.B. Cebulski, who travels the world for his job and maintains a robust address book of people who love food and like to demonstrate this wirelessly. "My buddy Jerry Ma is over in Paris," he wrote last December in one of many such Tumblr posts, "foodhazing me from the Maison De Truffle with this pic of his 'shrimp' risotto!"

The word: Bitterati
What it is: The resurgence of classic cocktails and history-minded bartenders extends to this subset of tinkerers, consultants, and tincture torch-bearers. Following the lead of bitters revivalists Dale DeGroff, Gary Regan, and Ted Haigh, these are the people who macerate barberry root on the backbar and cloud your gimlet with drops of rhubarb, or suggest you try some pimento in your Sazerac.
Where it comes from: An exhaustive book on the subject, called Bitters: A Spirited History of a Classic Cure-All by Brad Thomas Parsons was published in November of 2011, and won a James Beard Foundation Book Award and an IACP Cookbook Award for its breadth. Though Parsons doesn't actually use the word in the book, others acknowledge it exists. The bitterati, like truth in The X-Files, is out there. Unlike the various shady conspirators and the Illuminati, however, the bitterati do not toil in secret. They make yummy cocktails in plain sight.

The word: Farmwashing
What it is: This year, fast-food companies initiated advertising campaigns featuring salt-of-the-earth types, like the rugged McDonald's supplier who peels his newly harvested potato with a pen knife and takes big bites of raw spuds, just to show that McDonald's fries are made from the real vegetables.
Where it comes from: Grist unpacked the subtext of the fast-food company's "farm-to-fork" campaign, calling it "groan-worthy" in its attempt to make processed foods seem less so.

The word: Fierized
What it is: One month ago, Pete Wells reviewed Times Square behemoth Guy's American Kitchen in the New York Times. It was the review heard around the world, and many theorized why a serious newspaper critic would even bother to take on, and then take down, a theme restaurant located within the world's most-visited tourist destination. Some say it was classist, while others, like Helen Rosner of Saveur, said it was very necessary.
Where it comes from: We just made it up, we're pretty sure, but people are still fierizing about that review.

The words: "Make it snow"
What it is: This is what you call it when someone shaves very, very expensive white truffles over your food.
Where it comes from: In January, the Times published a column outlining the somewhat odd but decidedly cost-saving tactic of Mark Oldman, who regularly seeks to cut the supplementary cost of fresh truffles at restaurants by bringing his own. "Having one full truffle ensures that there's more than enough of this funky fungus to 'make it snow' for everyone at the table," he writes.