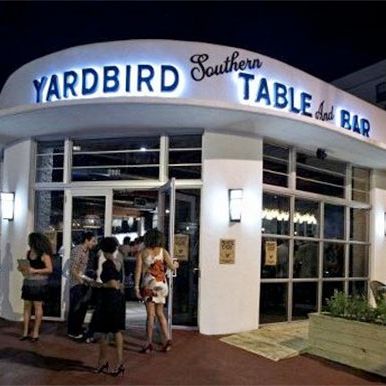 The Miami location.
Photo: Courtesy of Yardbird
Yardbird co-owner John Kunkel is taking his popular Miami concept and bringing it to New York. The restaurant's chef, Jeff McInnis, first hinted about it at the Palm Beach Food & Wine Festival. "It's a project for the coming year," Kunkel confirms to Grub. "We are very conscious of finding the right location and have been riding around with real-estate agents, looking at spaces, and getting a feel of the neighborhoods."
So where might that be? "We went to Talde in Park Slope and liked that area," Kunkel says. "We are looking for a space about 5,000 square feet that would hold 175 seats, and in New York, you can be a block off and miss 20 to 30 percent of your business."
The Florida location opened late last year specializing in amped-up versions of Dixie classics: fried oysters with homemade sausage and chow chow aioli, slow-cooked ribs that are first brined in sweet tea, fried chicken with Tabasco honey, and "surf n' swine" (scallops and pork belly) among them. The place quickly became popular (surely helped in part by McInnis's Top Chef history), garnering national accolades — a 2012 James Beard semifinalist for best new restaurant and best chef in the south region; a nominee for Bon Appétit's best new-restaurant list— and fans alike.
As for expansion, Kunkel says he was inspired by the success of Hill Country Barbecue and Buttermilk Channel, and plans to keep southern staples like fried chicken and chicken biscuits on the New York menu, along with frequently changing items that will reflect local ingredients. As for the design: "I love the architecture and design of New York, and we will try to incorporate that with a softer southern feel. "