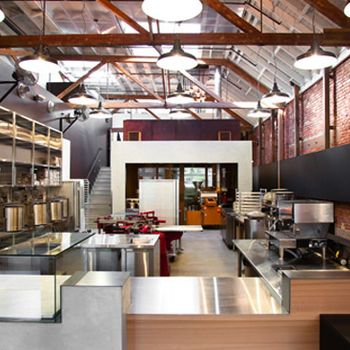 Dandelion Chocolate recently opened on Valencia.
Photo: Courtesy of Dandelion Chocolate
With over sixteen new restaurants open in the past eighteen months — amounting to 1,000 new restaurants seats in two years, as the Chron earlier pointed out — Valencia Street in the Mission has quickly become the city's hottest spot for hyped about openings. However, the Chron now reports that merchants in the neighborhood are worried that too much has opened too soon. The Valencia Corridor Merchants Association has voted to request a year long freeze on new full-service eateries on Valencia between 16th and 24th Streets. Small shop owners are overwhelmed by the large restaurant presence and worry that residents can't afford the pricey food items offered at these places.

Also, with all this demand, many existing businesses seem concerned that little mom-and-pop restaurants, and retail shops, will get pushed out under pressure from realtors and landlords since viable restaurant spaces are now at a premium.
Not everyone is in favor of a freeze: Tacolicious' Joe Hargrave spoke out against the ban saying that "it's kind of absurd. Yes, we don't want formula retail and chain stores in the area. But we don't get the right to decide which small business gets to open and which does not." Others fear that a ban will only force restauranteurs to open on neighboring blocks. Although the merchants can ask for a moratorium, city officials have the final say and it's unlikely that a freeze will happen in the near future.
Freeze sought on Valencia Street restaurants [Chron]
Earlier: Valencia Merchants Lobby for Moratorium on New Restaurants