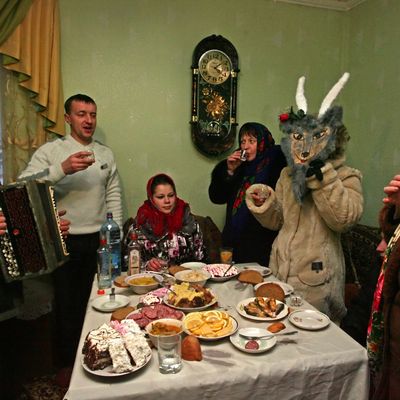 Koliaday in Belarus: We'll be sure to save you a seat.
Photo: TATYANA ZENKOVICH/epa/Corbis
This figgy pudding isn't going to bake itself, so we're going to sign off a bit early. Whether you're celebrating fancy Christmas in Forest Hills, the pagan-inspired Koliady in the forest of Belarus, or any other kind of traditional shindig anywhere else, we wish you all the best. If you're drifting off in front of the bacon yule log or dreaming of a gingerbread Downton, fear not, we'll be back on Wednesday morning, hopefully with a few new stories to tell. For those still doing your last-minute shopping, don't forget about the Grub Street gift guide, and also, that Red Hook benefit cookbook, just a click away. There are plenty of whiskeys that are as fine as Pappy Van Winkle, lots of Champagne that isn't name-brand, and of course, we'll always have eggnog. Just don't drink too much — there are many great meals to be had, just ahead, in 2013.