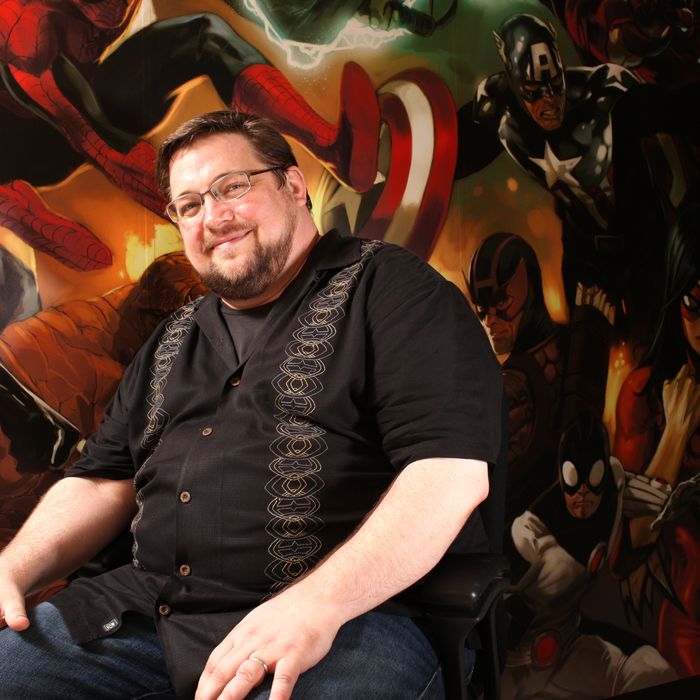 Cebulski and a few of his colleagues at the Marvel office.
Photo: Melissa Hom
"I travel from country to country, city to city, looking for writers and artists who can contribute to the Marvel machine," C.B. Cebulski says. That's because Cebulski is Marvel's international talent scout. And the job has more perks than you might think: "A lot of the meetings are around dinners," says Cebulski, who is also the man behind Eataku. "The artists have a lot of pride in their culinary cultures." Lucky for him, a lot of the people he works with come from countries like Italy, Japan, and Croatia. "There's been an enormous boom in Eastern European artists — the eating adventures were unbelievable." To read more about Cebulski's (many) eating adventures here at home, read on in this week's New York Diet.
Thursday, December 13
So my New York Diet began early on Thursday morning. Like 2 a.m. early. My wife and I and a few friends had been at the opening of the new Japanese sake lounge Sakamai down on the Lower East Side. Even though we stuffed ourselves silly and had bellies full of beer and Japanese liquor, the group wanted ramen. So we headed up to Sanshiro, the ramen pop-up that opens its doors after midnight inside Seo on East 49th. While I'm usually a total tonkotsu whore, the only choices at Sanshiro are shoyu (soy sauce) or shio (salt), of which I prefer the shoyu. I managed to avoid any noodle nightmares that sometimes accompany such late-night noshing but got too few hours of sleep before I had to be up for work.
Breakfast was rushed as usual: leftover Esposito's provolone sausage sandwiched between the amazingly good Parisienne Japanese butter rolls they sell at Cafe Zaiya.
Most afternoons, we do group lunches with the Marvel staffers outside the office. But as we're so busy now before the holidays, we just jumped out to the deli downstairs in our building, Cafe Duke, where I grabbed a provolone-and-cheddar cheese steak with onions, fries with ranch dressing, and a Doc Brown's cherry soda.
After work, I popped over to Heartland Brewery to grab a seasonal Old Red Nose Ale with Spider-Man editor Steve Wacker. But I was excited to get home. My wife had picked up a few different cuts of beef at Japan Premium Beef on Great Jones. We were finally trying out our new Zojirushi tabletop grill we bought in Kobe in November. It worked perfectly, and we enjoyed a fine meal of beef, enoki, kikuna, moyashi, Gingko nuts, and yakisoba that we grilled ourselves in the privacy of our own dining room. Accompanied by some Avery White Rascal beers.
For dessert, we enjoyed some of Empire Cake's always incredible white-chocolate-covered red-velvet "twinkies." Or should I say "snack rolls," as they're calling them now.
Friday, December 14
Friday started in a similar fashion to Thursday's, with sausage on those same butter rolls, but this time, they were spicy kurobuta pork sausages from Sunrise Mart. I usually work from home on Fridays, but I headed into the office, as we were having our annual Marvel Holiday luncheon and raffle.
Had a good time catching up with friends in different departments as we ate plates of catered penne a la vodka and chicken piccata. The crab cakes smelled a little too fishy for my liking, so I avoided them, which X-Men editor Nick Lowe later told me was a smart move. Came up empty-handed in the raffle.
Later, during an editorial meeting, the subject of Hostess's demise and the downfall of the Twinkie came up. Oddly enough, I happened to have a box in my office that writer Amy Chu had sent over as a holiday gift, so the box was fetched and opened and eaten. I had not had an actual Twinkie in more than a decade probably, and one bite reminded me why.
For dinner, some friends and I headed down to Pig and Khao, where we proceeded to order one of everything on the menu. It was a group of big eaters. Highlights included pig's-head sisig, which we all agreed was the best we'd had outside of the Philippines; the pork jowl with watermelon; the quail adobo; crispy red rice salad; and the lovely crispy pata. Definitely one of the best new restaurants I've been to in NYC this year.
After that, we headed over to Sakamai for cocktails. My buddies had heard me talking about it and wanted to try it for themselves. We started with their matcha rum cocktail, which I forget the name of, but was meticulously made, twice, in fact, as Shingo the bartender wasn't happy with the first batch. We ordered a bottle of Kikusui sake when chef Akiyama sent up some foie gras chawanmushi and his egg-on-egg-on-egg dish. The egg-times-three is actually caviar on top of uni on top of scrambled egg, served in the sea urchin shell. Delightful! Closed the night out with an Echigo beer.
Saturday, December 15
The first half of Saturday was low-key, rolling out of bed and snacking on a leftover negitoro roll my wife had brought back from Kanoyama the night before.
Once we both were up and about, we fired up the rice cooker and wok and made some lap chang sausage fried rice, which turned out pretty tasty, I have to say. I then ventured out and spent my afternoon Christmas shopping while trying to avoid the drunken Santas that were roaming the streets for SantaCon before heading over to my buddy, and Marvel's chief creative officer, Joe Quesada's apartment for his annual holiday bash.
Joe's wife, Nanci, is an incredible cook. She's famous for her beef sliders, which she still won't give me the recipe for; and her cheese-filled, bacon-wrapped, double-baked potatoes are to die for. They ran out of tonic, so most of my early evening was spent drinking Hendrick's gin with white cranberry juice.
Then it was back to Sakamai yet again, but this time for one of the single best dishes I've had all year — their skate wings. Lightly fried fish bits paired with a yuzukosho yogurt dipping sauce are mind-blowing. They're like the chicharróns of the sea. Paired perfectly with a bottle of Kikuhime sake.
Sunday, December 16
We spent Sunday at home catching up on comics, clearing the DVR, and watching a little football. We slept in, so skipped breakfast.
Lunch was chicken sandwiches and onigiri from Cafe Zaiya. For dinner, we ventured out into the early evening rain to grab takeout from Cuisine of Pakistan on Ninth and 37th. Their old green awning was gone, and a new sign now naming the place Kashmir had gone up, much to our surprise, as we eat there weekly, but the food was still the same. Phew!
We got most of the dishes we usually pick up when there: chicken tikka, chaplee kebab, naan, and chickpea curry. We also ordered a new spicy ground-chicken dish that was outstanding! We grubbed at home, washing away the spice with a couple bottles of Uinta Brewing's Hop Notch IPA that chef (and soon-to-be Wolverine writer) Chris Cosentino turned me on to when he was in town. We originally had it at Hearth, but I was psyched to find they sell it at Whole Foods in Columbus Circle.
Monday, December 17
Monday mornings are slow for me, as they typically start with the editors checking in with all of their freelancers to see where they're at on their schedules and deliveries. Then we usually meet about potential problems in the afternoon. So I had the time to cook up an omelette with our leftover chicken tikka, onions, and scallions for breakfast. However, another busy afternoon packed with meetings meant lunch from Cafe Duke brought back and eaten at my desk again. This time it was ham and turkey with provolone, lettuce, and onions on rye; Ruffles cheddar and sour cream chips; and a bottle of Fresca.
It's the holiday season, so some people are baking while others are sending in gift baskets, and the Marvel offices have become Cookie Central. A couple of snickerdoodles made their way into my mouth, as did a delicious peanut butter, caramel, and pretzel cookie baked by Wolverine editor Jeanine Schaefer. We had the Marvel Publishing Holiday Party to attend later Monday evening, but rather than go into it on empty stomachs, Marvel SVP of Talent Relations David Bogart treated me and executive editor Tom Brevoort to pizza from John's on Bleecker. Three people, two large pies … one with sliced meatball and mozzarella, the other with ricotta and sausage. A pitcher of Yeungling to quench our thirst.
And while our party at McHale's Pub on West 51st was a food-filled event, I'm glad we ate beforehand, as all I was able to consume once I got there were gin and tonics, buttery-nipple shots, and Jager bombs.
Tuesday, December 18
As you may have guessed, Tuesday morning did not get off to a good start. My breakfast consisted of three Excedrin Migraine, three bottles of water, and two Japanese hangover pills made from an extract of shijimi clams, which is supposed to be good for your liver.
When I was finally feeling up to food, I had some Zabar's chicken salad on a plain roll. Man, their chicken salad is the best! That was all I ate until dinner. We had reservations at Kyo Ya on East 7th at 7:30 . By the time we got downtown, I was in fine form again.
Kyo Ya is our favorite NYC restaurant, and Sono-san our favorite chef. (With apologies to all of the other chefs reading this.) We always make sure to book seats at the private counter in back. We started with an "omakase" sashimi platter of Sono-san's choosing and were thrilled with the fresh buri from Himi, Japan, and the salmon trout from Tasmania. We moved into smalls bowls of house-made fermented squid and shrimp (shiokara); a plate of fried blowfish (fugu); braised daikon radish with spinach; smoked potato salad with shrimp and pine nuts; a hot pot of king crab and snow crab rice; and bowls of miso soup with asari clams. Sono-san's cooking just can't be beat. As an added bonus, Kyo Ya had actually just gotten in a few bottles of some oh-so-hard-to-find wines from Kenzo Estate out in Napa, so we chose to forgo our usual bottle of sake and went with one of Kenzo's 2009 rindo red wines. Absolutely amazing!
Wednesday, December 19
We went to Charleston. I've long followed the career of Sean Brock; I read the articles about him, saw him on cooking/travel shows, and absorbed the legend. I'd always wanted to travel to Charleston to eat Sean's cooking at McCrady's and Husk, but my wife was against it. We'd been burned traveling to cities to eat at "hot" restaurants before, and she wasn't convinced Sean's cooking was worth traveling for. Yet. Then Brock came to Brooklyn to cook a special "Gainjinner" Japanese dinner at Governor. We went, we ate, she fell in love with his food and declared him genius, and we booked our tickets to Charleston the next day. And man was it worth it, even after just the first day.
While the trip started inauspiciously with a bland turkey club from the Earl of Sandwich in Terminal A at Newark that was mostly lettuce, every other dish put in front of us the rest of the day was 100 percent pure win!
First up, Husk. Fried chicken skins with hot sauce, which we were warned not to steal or we would have, rabbit stew with dumplings, and Sean's burger. Oh, that burger! That's how you make a burger! And the dessert … foie gras, peanut butter, blueberry jam, and French toast!
Then it was on to opening day at Mike Lata's the Ordinary, where we snacked on a tray of local oysters and clams — Caper's Blades being the standouts — paired with a lovely Greek Moschofilero white wine.
We rested up before having dinner at FIG, thereby doubling down on Mike Lata's food, which was an incredible experience: from the carpaccio of grey triggerfish to the coddled egg with stone crab to the fish stew.
A Miller's Crossing cocktail at the Gin Joint on the way back to the hotel put a perfect cap on our day of divine dining. And tomorrow we'll get up and do it all over again. As we say in our comics, "to be continued … "