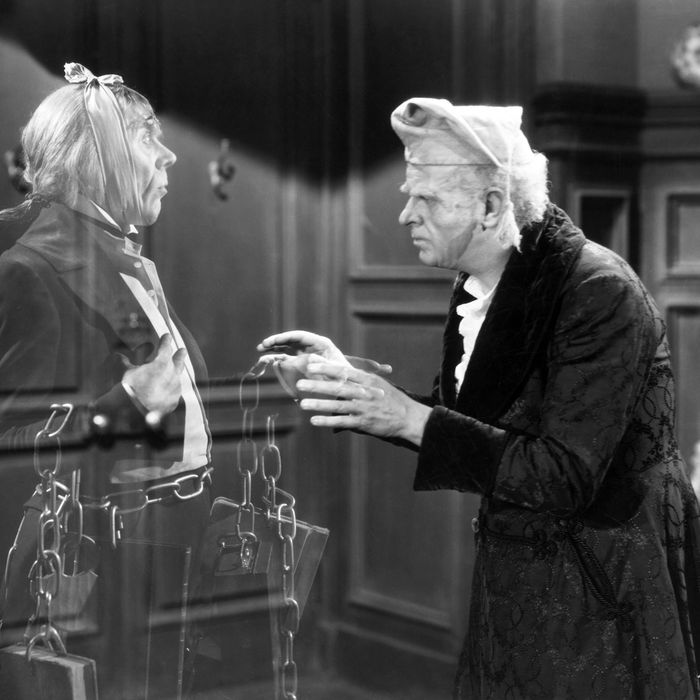 Your waiter for tonight will be very old and cranky.
Photo: Corbis Images
Now through January 6, Amali on the Upper East Side is doing something both festive and unexpected: The restaurant has transformed the second floor of the brownstone it occupies at 115 East 60th Street into a dining room inspired by Charles Dickens's A Christmas Carol, and is offering guests a meal inspired by passages from the story. This isn't dinner theater, though; there are no reenactors in funny hats seated across the table and, hopefully, no feeble English children tugging at your trousers. Instead, guests are greeted at the door with a mug of "Cratchit" hot gin punch.
Amali's menu, like the novella's ghosts, represents the "past" (oysters with fennel gelee, for example), "present" (chicken with foie gras and truffles; goose leg salad), and "future" (almond crumble and other delights). Most of the menu's dozen items have been devised to pair with a Christmas Carol passage. The dinner is available for $90 per person, or $40 for the "Tiny Tims" in your life.
That's not the only well-read supper going on: The newly opened Louro in the West Village is hosting a five-course tasting menu inspired by Jack Kerouac's On the Road (and, of course, the new film of the same name) tomorrow night. For $95 per person, David Santos will cook crab with cioppino vinaigrette, catfish stew, and grit fritters inspired by Kerouac's time in New Orleans, and ricotta beignets with coffee ice cream to match the "absolute madness and fantastic hoorair of New York with its millions and millions hustling forever for a buck among themselves." After-dinner benzedrine shooters are not included.
A Culinary Tribute to Jack Kerouac's "On The Road" [EventBrite]
Charles Dickens Dinner [Amali]