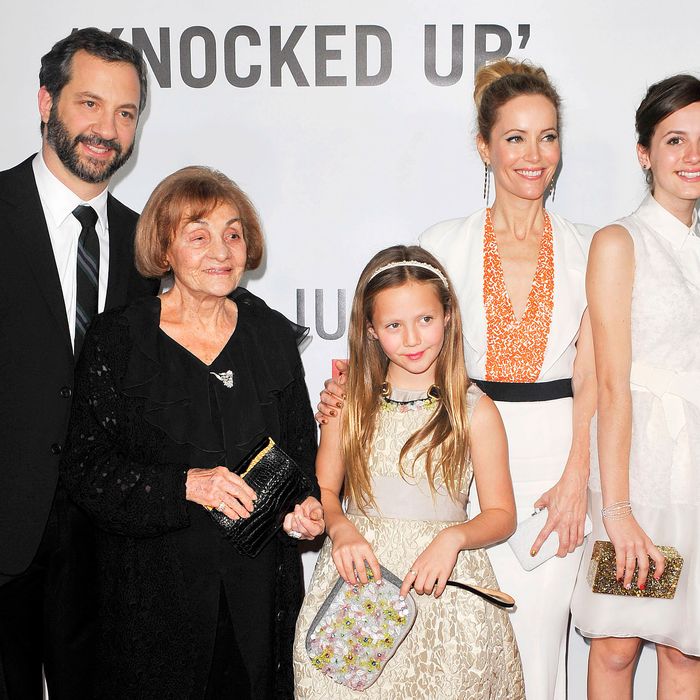 This is 40's Iris Apatow, Leslie Mann, and Maude Apatow.
Photo: enewsimages.com/Corbis
How did New York's celebrities spend this week of the holiday season? Leslie Mann got soft-serve at Milk Bar, Martha Stewart visited Santa at the '21' Club, and the star of one of our all-time favorite Christmas movies ate alone at Taco Bell. It's time, once again, for our weekly roundup of celebrity dining.
'21' Club: Martha Stewart tugged on Santa's beard at Anne Hearst, Jay McInerney, and George Farias's Christmas Cheer Cocktail Party. Danny Meyer was also in attendance. [Page Six/NYP]
Beatrice Inn: Amanda Seyfried ate a wedge salad and roast chicken while dining with three men at the new celebrity hot spot. After the meal, she picked up the check for the table. That same evening, Luke Wilson dined with a blonde model on the other side of the restaurant. [Page Six/NYP]
Bill's Food and Drink: Ralph Lauren and wife Ricky celebrated their 48th wedding anniversary. In honor of the year they were married, business partners sent the couple a bottle of a 1964 Armganac. [Page Six/NYP]
Circo: Billy Joel ordered the restaurant's spaghetti alle vongole for lunch. [Page Six/NYP]
Momofuku Milk Bar Midtown: Leslie Mann was called out for cutting in line at the dessert spot. A "Page Six" "spy" claims Mann jumped ahead of six girls when ordering soft-serve with toppings, one of whom piped up, "If this is 40, then I don't want to be 40!" Mann's reps deny the story, saying daughters Maude and Iris had been waiting in line when their mom joined them. [Page Six/NYP]
Nello: Jay-Z was seen with a friend at the Upper East Side Italian restaurant. [Page Six/NYP]
Taco Bell: On Sunday, Macaulay Culkin sported sunglasses and a bulky gray hat while chowing down at one of the chain's Manhattan locations. The Home Alone star left with with his super-size drink in tow. [NYDN]