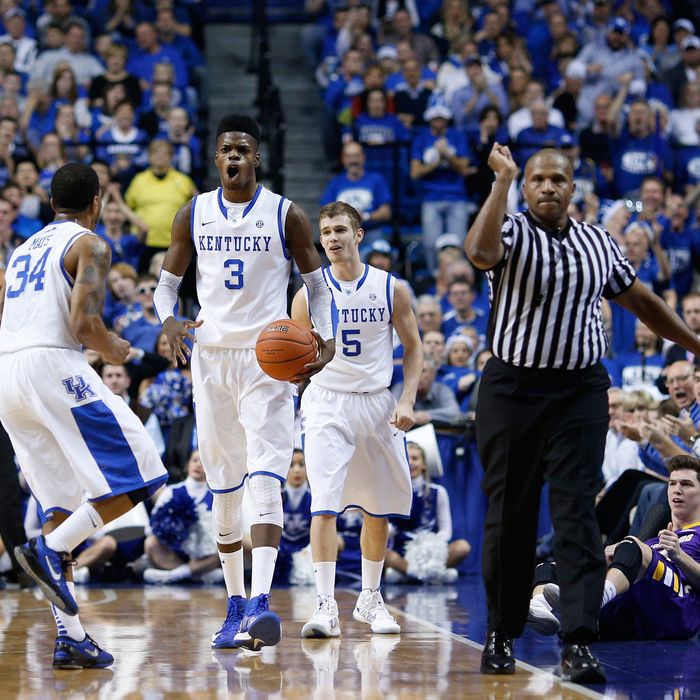 The Hunger Games.
Photo: Joe Robbins/Getty Images
You may not know that NCAA regulations limit college athletes from eating free food whenever they're hungry (which is always). Schools are only allowed to feed players one complimentary "training meal" a day, which must be eaten at the training table. So, if someone wants to skip out on the group binge-eating and take a snack to eat later at the dorm, it's considered a violation. Some scholarship athletes are permitted to receive three full free meals a day if they opt for a university's formal meal plan, but that still isn't enough for players who share Bigfoot's shoe size. They need to eat constantly to compensate for the thousands of calories they burn during practice. What to do? John Calipari, the University of Kentucky's men's basketball coach, is now challenging the NCAA's rule, and he's got the support of the Collegiate & Professional Sports Dietitians Association.
The Times reports that the CPSDA wants to "permit unlimited interval feedings as needed throughout the day to fully restore athletes and make them 'whole again.'" Meanwhile, Calipari vents on his website that the regulations are causing his players to lose weight and energy. "We have a kitchen here that should be open for these kids whenever they want to eat," he writes. "What do they do if they're at home and they want a sandwich at night?"
The issue is that Calipari's players can eat grilled cheese sandwiches at midnight (drunkenly) if they so desire — but they have to pay for them. College athletes tend to have less expenses than normal students (they usually get free room, board, and swag), but they also have less free time than the average Lit major. Players may not be able to get jobs to support themselves — and their massive appetites. But that doesn't mean that schools should pour additional money into providing free-for-all feasts for their beloved championship winners.
The NCAA rule is in place to even the playing field: Schools that can afford to feed players unlimited amounts of food would have unfair advantages. This year, we've seen how big-time college sports programs can erode the core values of a university. Granting athletes unlimited free food may retract resources from other students in need. It also makes basketball behemoths with big endowments (like Kentucky) even more powerful while hurting small schools with on-the-rise teams.
One possible compromise is to allow athletes to take their one free meal a day to-go, if they desire. That way, they could pace their meals. Another solution is to provide more snacks for athletes all throughout the day. The NCAA only began permitting free bagels, fruit, and nuts for athletes in 2009. It seems unlikely that Calipari's request for unlimited food will be honored, as the NCAA still hasn't implemented a 2011 proposal to provide complimentary cream cheese and butter. So the real issue here may be that student athletes are eating dry bagels. Nobody wants that.
Let's focus on rules that matter and let our kids eat [CoachCal]
Some Dietitians Say College Athletes Are Underfed [NYT]