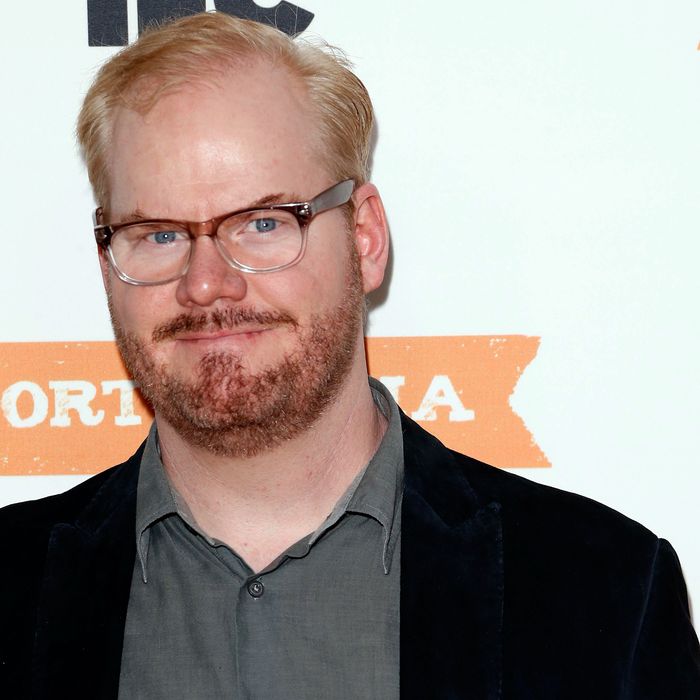 "Halle Berry looks delicious."
Photo: Jimi Celeste/Patrick McMullan
At last night's premiere for the third season of Portlandia, there was a lot of talk of veganism and restrictive diets (SNL's Taran Killam on the Master Cleanse: "I did it for three days and shat water like you wouldn't believe"), but Jim Gaffigan, upcoming Portlandia guest star and famous opponent of Hot Pockets, had the most to say on the subject.
Have you ever tried to go vegan, organic, gluten-free, or eliminate anything from your diet like they do on Portlandia?
I try to only eat animals that are vegan. I'm probably the opposite of a vegan.
You mean a carnivore?
I'm a carnivore, but I'm probably only moments away from eating people.
Should I worry?
I'm a big eater. I mean, a lot of my stand-up is about food, and you write about what you know, and that's the only thing I know. I don't know anything else.
So if you were eating people, what are the parameters? Would Bobby [Moynihan, who is standing near us] be delicious?
You'd have to get rid of the hair first, right? Yeah, there are some people who look more … like, Halle Berry looks delicious.
But she doesn't have enough fat on her. The fat would add flavor.
Yeah, I know. If you love steak, you want a little fat. That's a tough question. Maybe Emmanuel Lewis. He would probably be delicious when he was younger. Or Todd Bridges. I'd probably only really want to eat women and not men. I wonder, because that's interesting, if we get to the point when we're eating people, would gender be an issue? Would we be like, "Wow, you're eating guys. What does that mean? Not that there's anything wrong with eating a guy. I have friends who eat guys. I've got a sister who eats girls. It's not that big of a deal."