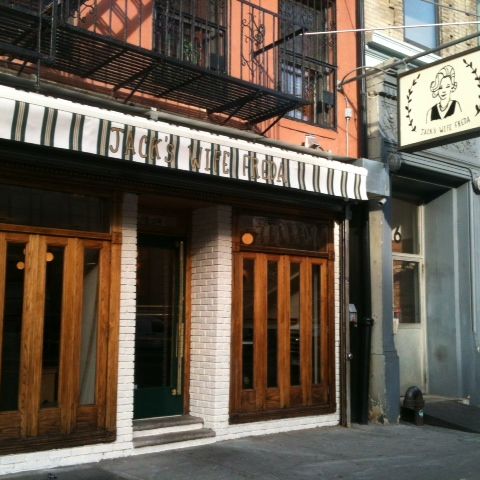 Cocktails coming soon.
Photo: Maya Jankelowitz
One week ago, CB2 Manhattan adopted a resolution by its SLA committee and conditionally approved Jack's Wife Freda for an upgrade to its liquor license. Dean Jankelowitz tells Grub Street today he is "pleasantly surprised" since he and his wife Maya, who he met when they both worked at Balthazar, have been open less than a year. The upgrade was opposed by neighborhood activist Georgette Fleischer and others who last week claimed the Lafayette Street restaurant was always "packed to the gills" and did not need to sell hard liquor to attract more clientele. Fleischer and an ally also claimed that Jankelowitz had "promised" them to stick to wine and beer.
Jankelowitz denies this allegation. "I never promised them — it was just a conversation," he said. "As a business grows, it takes on a life different than the one you expected. I expected opposition from Georgette, but the community has truly embraced what we're doing and some of the [activists] come in four or five times a week."
Jack's Wife Freda must still get a nod from the New York State Liquor Authority, something Jackelowitz expects to happen within a month. "I'm thrilled to get the license and it's truly for a point of hospitality so people can unwind at brunch and have a Bloody Mary," he says. "Our intention is to be a café, not a bar."
Earlier: Jack's Wife Freda Opening Later This Week With Matzo Ball Soup and All-Day Service