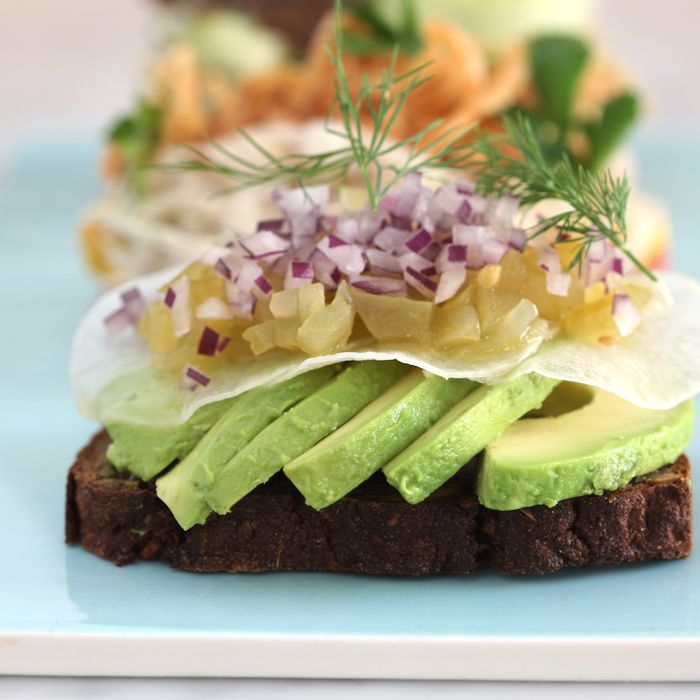 Eat like a Dane at Aamanns Copenhagen.
Photo: Melissa Hom
Is it really "healthier" to eat at home rather than in restaurants? That common thinking is no doubt thanks to the idea that chefs load up their food with cream, butter, bacon, and anything else that will give you the gout. Most restaurant dishes aren't diet food, but some of the city's best new places do offer things that are delicious without sacrificing health. See what we mean, straight ahead.
Monday, December 3: Start the Week With Beans
Salumeria Rosi may be known for its unabashed use of pork (even in the breadsticks), but the secret to dining well here is to break up all the pig with some legumes. A diet high in beans and lentils has been linked to a lower risk of diabetes, and Cesare Casella's heirloom varieties are just about the most delicious in town.
Tuesday, December 4: Go Nordic
There's a reason why Nordic folk have lower rates of heart disease and obesity: Their diets are excellent. Make like one with pickled mackerel and a botanically enhanced beverage at the brand new Aska. Or head to Tribeca and grab some herring or an avocado smørrebrød at Aamanns Copenhagen.
Wednesday, December 5: Drink Sake for Your Health's Sake
Order up some rice wine at Gabriel Stulman's latest,Chez Sardine, and stock up on selenium, a trace mineral found in sake, rice, and fish (among other places) that's essential for thyroid function and a healthy immune system.
Thursday, December 6: Breakfast at Rosemary's
Research shows that eating breakfast within an hour of waking up is best for keeping your metabolism humming. Celebrate the new morning menu at Rosemary's with some uova in purgatorio (eggs baked in tomato sauce).
Friday, December 7: Go Light at Mission Chinese
The famous dishes at Danny Bowien's LES restaurant are kung pao pastrami and thrice-cooked bacon, but eating healthy here is easy with items like amaranth greens in walnut miso (hello, superfoods) and the nutrient-loaded buckwheat noodles with shrimp and eggs.
Kate Lowenstein is the senior features editor at Health magazine.