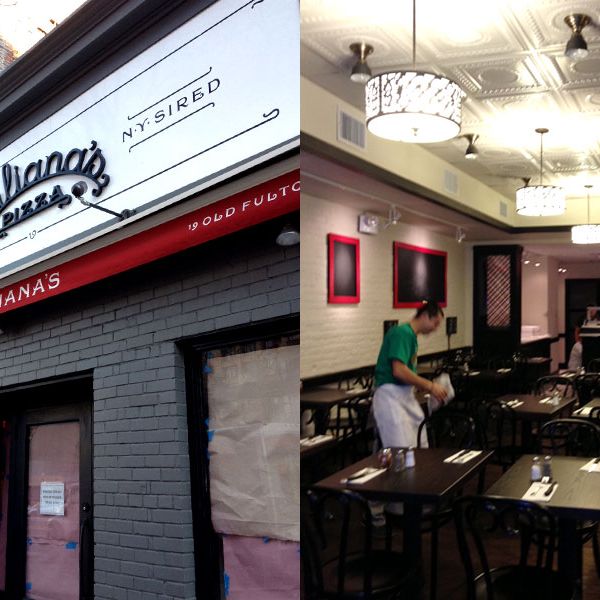 The paper may still be up, but the pizza starts tonight.
Photo: Alyssa Shelasky
Pizza legend Patsy Grimaldi will open his newest coal-oven endeavor, Juliana's, for friends and family tonight at 19 Old Fulton Street, the Post reports. We've heard Juliana's may serve a few pies to passersby, too, but the restaurant will definitely be fully open to tour-bus crowds and the pie-eating public tomorrow. The opening marks a new chapter for the 81-year-old Grimaldi, who, as the "N.Y. Sired" sign that hangs outside suggests, spent decades making pies that made New Yorkers pizza obsessives.
Grimaldi, as the story goes, had been in retirement for thirteen years last fall when the opportunity came along to reclaim his old shop in Dumbo. He took it, leaving him at odds with Frank Ciolli, who, at 71, owns the rights to the Grimaldi's name and operates the competing pizzeria virtually next door, at 1 Front Street.
Feuding pizza dynasties are part of the city's genome, of course, and though both parties have agreed to be gentlemen going forward, the pie guys have engaged in a battle of credentials for the last year. There have been stop-work orders at the Old Fulton Street space; Ciolli filed a lawsuit to prevent Juliana's from opening in October; and his architect even accused Juliana's of installing an illegal oven. Will any of this cool down as the coals burn up? Most likely. Ciolli says the neighborhood's three pizzerias can all co-exist, and Grimaldi himself just wants to play some Sinatra and mellow out. "I'm looking to make pizza in peace," he tells the Post.

$licing up pizza pie [NYP]
Earlier: How Patsy Grimaldi, the 81-Year-Old New York Pizza Legend, Is Getting His Good Name Back