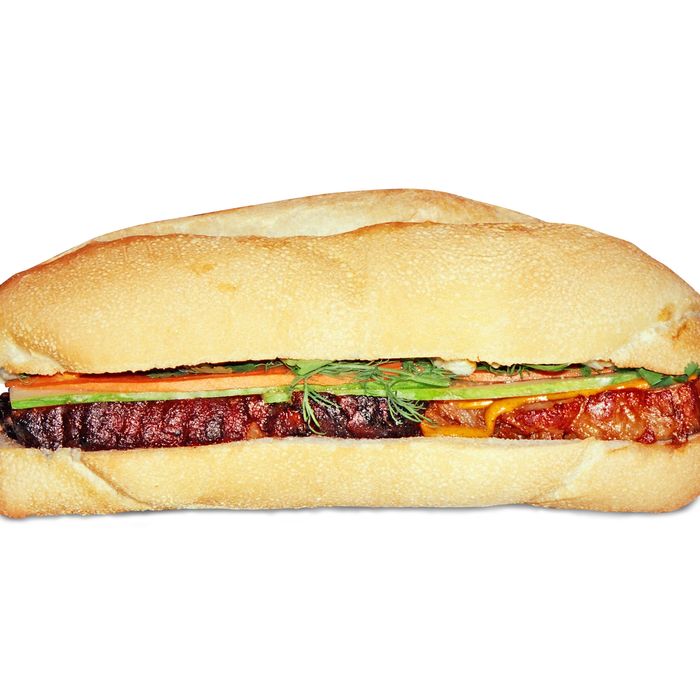 The sandwich is at the Ace Hotel until Saturday.
Photo: Rory Gunderson
Ready for another pork sandwich? George Mendes is the next celebrity chef to create a limited-edition sandwich for No. 7 Sub to help Hurricane Sandy relief efforts. It's tough to top Jean-Georges Vongerichten, who last week made a crunchy chicken sandwich with Asian pear, shiso, and bibimbap mayo. But Mendes's has pork belly. No. 7 Sub co-owner Tyler Kord says Mendes was actually the first chef he approached for this series of collaborations because "Who the hell has ever gotten to eat a George Mendes sandwich?"
Mendes says Kord gave him the freedom to basically make whatever he wanted for No. 7, so he based his sandwich off a classic Portuguese recipe for carne porco à alentejana. The result is a sandwich of pork belly that's been cooked for twelve hours, clams, cucumbers, pickled carrots, fresh cilantro, and sweet smoked-paprika mayo. It's available today through Saturday at the Ace Hotel location, and proceeds of each sale will go to the St. Jacobi Church in the Rockaways.
Next up is April Bloomfield, and Kord teased that hers will involve roasted cauliflower. What has to happen to get these subs put on the permanent menu?