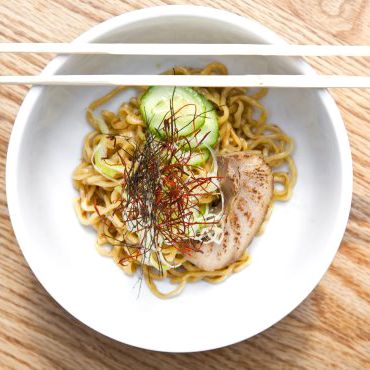 Ramen: no longer only big in Japan.
Photo: Jakob N. Layman/Time Out New York
New York critic Adam Platt's Where to Eat 2013, which is on newsstands this week, breaks down some 60 clutch recommendations based on the thousands of restaurant meals Platt has eaten and the emerging trends — like the sudden flourish of small Italian places and resurgence of old-school French — he's noticed along the way. While we look forward to the New Year, we figured it'd be an ideal time to take one good look at how dining changed everywhere else in 2012.
Grub Street Chicago has come up with six ways the city's scene moved forward, including the boomlet of enormous restaurants like Del Frisco's and the emergence of "ice chefs," guys with immaculate carving abilities who typically have more cubes than Ernő Rubik. Also, Jewish comfort food is having a moment.
Restaurant critics playing musical chairs and tinkering with the ratings systems in L.A. made Grub Street Los Angeles's list, as did the sudden appearance of vending machines selling everything from caviar to cupcakes. The foie gras ban happened, and elsewhere, seafood shacks opened everywhere on the half-shell. It's been a banner year for new, dish-specific Japanese shops and stalls selling soba, katsu, tempura donburi, and tsukemen.
There was also a spate (or, perhaps, a spat) of oyster bars on the East Coast, Grub Street Boston notes. Ramen-mania drove ordinary citizens to the brink of nervous breakdowns, the Seaport continued to attract a lot of top-notch talent to big-budget projects, several historic spaces got new touches, and many of the city's most venerable chefs (Tim Wiechmann! Ana Sortun!) are working on new projects.
Grub Street Philadelphia regrets to inform you that the iconic cheesesteak has "fallen from grace." It's raining ramen, however, and Le Bec Fin's "reboot" signifies that fine dining isn't quite dead. The Fin isn't the only success story: As better restaurants are spreading out, dining in the suburbs is going swimmingly.
Chef-innovators continue to ferment and cure everything, Grub Street San Francisco notes, dry-aging in full swing. At Saison, for example, you can choose between "32-day dry-aged pigeon, 70-day dry-aged pigeon, 68-day lamb, seven-day aged fish, 80-day aged tuna belly, and tuna ham." Orange wines are on ice; chefs like Daniel Patterson are pushing meat to the side of the plate in favor of glorifying vegetables like celtuce; and as Mission Chinese Food made its way to New York, the debate raged on about what makes food authentic when it comes to ethnic ingredients and accusations of cultural appropriation. At the very least, the word fusion seems to be on its way out of circulation, and we might as well all drink to that.
10 Ways Dining Changed in L.A. in 2012 [Grub Street Los Angeles]
Six Ways Dining in Chicago Changed In 2012 [Grub Street Chicago]
Six Succulent Ways Dining in Boston Changed in 2012 [Grub Street Boston]
Five Ways Dining Changed in Philadelphia in 2012 [Grub Street Philadelphia]
Ten Ways Dining in S.F. Changed in 2012 [Grub Street San Francisco]
Related: Here Is Adam Platt's 'Where to Eat 2013'