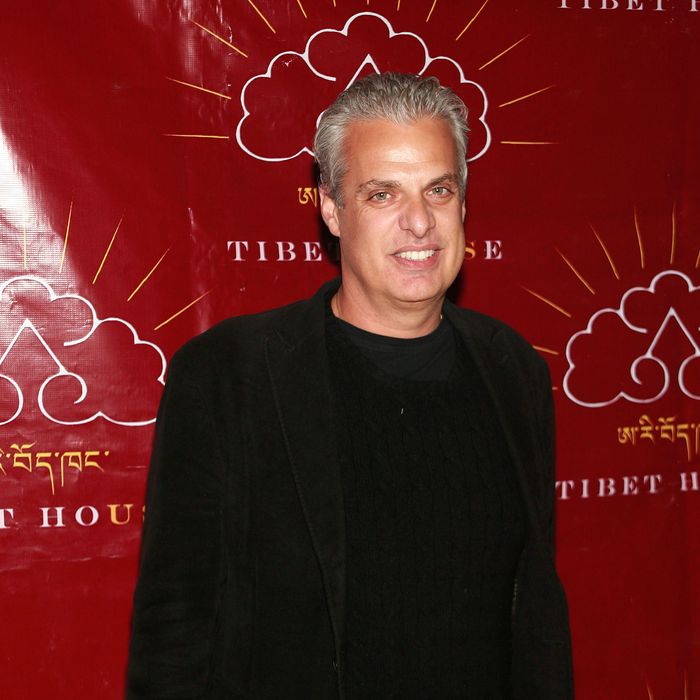 Ripert, last night.
Photo: Sylvain Gaboury/Patrick McMullan
Le Bernardin chef Eric Ripert was among the celebrities at last night's annual Tibet House Benefit auction. We caught up with Ripert, looking a little frazzled after walking the red carpet, to talk about the influence for that Playboy shoot, his Christmas dinner plans, and what he hopes to find under the tree this year.
So, how did this photo shoot compare to your Playboy photo shoot?
Ahhh! Well the Playboy photo shoot was in a studio, as you imagine. You know the studio Industria? It's in the meatpacking district. So you have one photographer, you spend three hours, they shoot you. This [he gestures to the carpet] is a little bit overwhelming!
But the Playboy shoot, it wasn't overwhelming?
No, it's a certain intimacy with the photographer, and obviously the assistants, and they try to — I think my role was to look like Dexter a little bit — because, you know, I have the bloody hand and the knife, and I'm carving the pomegranate. And I have this kind of devilish — you say devilish? — look. So the inspiration I believe was Dexter. So it was funny for me to basically act.
Did they give you a lot of direction?
It's like, if you don't want to have a double chin, you have to do like that. [He sticks his chin out in front of his neck.] You know, little tricks.
So is that your best trick? You stick your neck out?
I don't know. It's what they — I have no idea — I sort of heard that. I was like, Wow!
How did your wife react when you told her you were going to be in Playboy?
She's not jealous.
No?
No, I mean, it's Playboy. It's guys looking at the magazine, not girls!
So you're a Buddhist but you still celebrate Christmas?
Yeah. In my family, my wife is Catholic. Her father is Jewish. I'm Buddhist. So we celebrate everything!
And do you have the same menu every year?
Every year, the same menu.
What's on it?
Smoked salmon, oysters, caviar, a roasted capon, chestnuts, cheese. I mean, you know. Things like that.
It sounds great.
It is! Good wines. You have to.
Anything special that you hope to get?
What am I getting this year, hopefully? A pair of black sneakers.
Oh yeah? Any particular kind?
[Laughs.] I don't care. It's for the kitchen!